Best language schools in Fort-de-France (ranked based on student reviews)
Filter
Map
Methodology of language school ranking
This ranking of language schools in Fort-de-France is 100% transparent. It is
exclusively based on the objective criteria of authentic reviews of clients
who booked their language course at our site, and whose
attendance was verified
. The
primary ranking criteria is the average overall student satisfaction
rating (
detailed information about the methodology
).
Didn't find what you are looking for?
Interested in language travel to other cities? Have a look at French language schools in other cities in Martinique such as or see our list of all schools in Martinique.
You may also want to consult options outside Martinique for learning French.
Why Fort-de-France? Fort-de-France is a major city in the Caribbean and the largest

...
city in the French West Indies. It is a city framed between old and new, history and modernity. On one end is the Caribbean's best-preserved 17th century forts. On the other is a gleaming business district, a modernised seafront and many new and trendy restaurants. It's a visible sign of how this capital has undergone immense changes in the past decade and the bay has now received the designation of one of the most beautiful bays in the world. Exports include sugar, rum, tinned fruit, and cacao.
Interested in online courses?
How our students rated their experience in Fort-de-France
Overall city attractiveness
10 authentic reviews from students who reserved with us
Most recent student reviews of language schools in Fort-de-France
Most popular French course types in Fort-de-France
Interesting information about Fort-de-France
Key Facts about Fort-de-France
Population: 90,000
Time zone: +6h. (GMT -4)
Region: Martinique, Martinique
Currency: EUR (1 EUR = 1.0522 USD)
High season: July
Low season: June
Average course price per week (High season): 381 €
Average course price per week (Low season): 275 €
Mains electricity:
Residential voltage:

220 V

Frequency:

50 Hz
Map with location of French schools in Fort-de-France



Weather in Fort-de-France
Climate Table
Legend:
Midday Temperature
Night-time Temperature
78.8 °F
77 °F
78.8 °F
78.8 °F
80.6 °F
80.6 °F
82.4 °F
82.4 °F
82.4 °F
82.4 °F
80.6 °F
80.6 °F
What to do in Fort-de-France
Schoelcher Library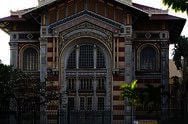 Law Court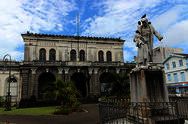 Arrival Airport
Martinique-Aimé-Césaire (FDF)
- 7 km. from Fort-de-France city center
Public transportation to city center:
on demand, 60,00 €, 15 minutes.
Main stops: Martinique-Aimé-Césaire Airport, Fort-de-France
Taxi: 15 minutes drive to city center of Fort-de-France
Direct international flights from:
USA: Baltimore Washington International, Boston Logan International, New York John F. Kennedy
Canada: Montreal Pierre Elliott Trudeau