Best language schools in Gyoda (ranked based on student reviews)
You are interested in learning Japanese in Gyoda? We have researched all the details about the best Japanese language schools in Gyoda for you so that you can easily compare prices, reviews, courses for adults and teenagers and special offers.
Japan: Covid-19 information for international visitors
Filter
Map
Didn't find what you are looking for?
Why Gyoda? The town of Gyoda in northern Saitama takes you far back into ancient eras. It offers gorgeous parks, a spectacular castle and is famous for its ancient burial grounds. Tabi is a traditional Japanese footwear and the old tabi factories and warehouses are found here and Gyoda is the largest producer of tabi in the whole of Japan.
Interested in online courses?
Which school to choose?
Get free advice from our language travel experts to help you find the best school for you.
What school directors said about Gyoda

Gyoda city is a small town on the north of Saitama prefecture, which is included in Greater Tokyo Area. Though it is a small town, it has a developed structure of public transportation, which allows you to move inside of the city or to Tokyo and surroundings without any difficulty. The small size allows Gyoda to keep traditionally Japanese lifestyle, so if you want to see Japan as it is, our city is perfect for you. Gyoda has become a place for several movies and TV-shows because of reach history of these lands: there is a castle, which was one of the few castles in this area, which have never surrendered, there are also many workshops of traditional closing like yukata, kimono, and especially tabi - special socks for Japanese traditional shoes. Also very November the biggest festival of fireworks in Japan is being held in close neighborhood of Gyoda city. Its' firework show have set into Guinness World Records.
Most popular Japanese course types in Gyoda
Key Facts about Gyoda
Time zone: GMT +0
Currency: (1 = 0.0000 USD)
Name of city in Japanese: 行田市
Cost of Living:
Big Mac price (Japan average):

0.00 (37% cheaper than in USA)
Mains electricity:
Residential voltage:

100 V

Frequency:

60 Hz / 50 Hz
Map with location of Japanese schools in Gyoda



Events in Gyoda
Best time to take a language course in Gyoda
The Festival of Floating Castle in Gyoda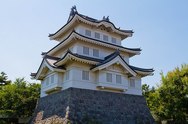 25 July 2021 - 26 July 2021The Gyoda Floating Castle Festival is held every year on the last weekend of July. During these two days there are flea markets, stage shows and a dance parade with a floating castle.