Best language schools (ranked based on student reviews)
Filter
Map
Methodology of language school ranking
This ranking of language schools in Trinidad is 100% transparent. It is
exclusively based on the objective criteria of authentic reviews of clients
who booked their language course at our site, and whose
attendance was verified
. The
primary ranking criteria is the average overall student satisfaction
rating (
detailed information about the methodology
).
Didn't find what you are looking for?
Why Trinidad? Cuba is a land frozen in time and what better example of its indefinable

...
magic than the colourful streets of Trinidad. a UNESCO World Heritage Site, it one of the best preserved historic towns in North America and possibly the world. Its colonial colonial architecture remains beautifully on display with its rainbow pastel coloured houses topped with red terracotta roofs. Wandering down these colourful cobble-stoned streets you´ll get completely lost and get a glimpse into what life in Trinidad truly looks like. Locals gather on doorsteps and street curbs, sheltering from the relentless sun playing games of dominoes and engrossed in deep. Salsa is a way of life here and rhythm runs through through the veins of every man woman and child. Come and see for yourself, I promise you wont be disappointed!
Interested in online courses?
How our students rated their experience in Trinidad
Overall city attractiveness
4 authentic reviews from students who reserved with us
Most popular Spanish course types in
Interesting information about Trinidad
Key Facts about Trinidad
Population: 61,000
Time zone: -14h. (GMT -5)
Region: Sancti Spíritus,
Currency: CUP (1 CUP = 48.0658 KRW)
High season: March
Low season: February
Average course price per week (High season): 178 €
Average course price per week (Low season): 332 €
Mains electricity:
Residential voltage:

110 V

Frequency:

60 Hz
Public transportation in Trinidad
Arrival Airport
Alberto Delgado (TND)
- 2 km. from Trinidad city center
Public transportation to city center:
Taxi: 10 minutes drive to city center of Trinidad
Other destinations that were popular to combine with courses in Trinidad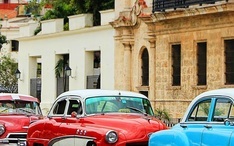 Havana
3 schools