Thai Language Schools in Thailand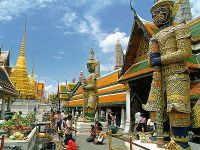 Find the best Thai school at a good price. Comparison of quality, reviews and offers on Thai courses for adults and students in Thailand.
Students rated schools in
1 language school in Thailand, ranging from
19930 THB
to 19930 THB for a 2 weeks Thai course including accommodation.

Price example (2 weeks):
| | |
| --- | --- |
| 19930 THB | = |
| 11250 THB | Thai Intensive Course (Thai Course - 20 lessons per week - 50 minutes per lesson) |
| + 8680 THB | Hillside Hotel - low season, Double room, No meals |
Patong Language School, Phuket: PLS is located in the centre of Patong Beach. The school is just a couple of minutes walk from the white sands of Patong Beach. The post office, banks, hotels, guesthouses, bars and restaurants are all nearby. More
Thailand: Thailand has many faces, from the constant activity of its capital to the calm, white sand beaches. Bangkok is a wonder for all the senses, with its busy streets, Buddhist temples and numerous restaurants. Between a shopping spree and a temple visit, stop for a massage and enjoy Thai food in one of the city's busy markets. In the central plains, admire the smaller towns' rich cultural heritage. And in the south, visit the small islands and relax on their gorgeous beaches with turquoise water.
Worldwide most visited independent site for booking language courses, Thai lessons & Thai language classes & Thai language study abroad programs at Thai schools in Thailand.