English Language Schools in Philippines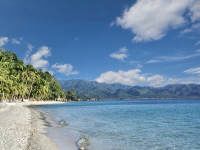 Find the best English school at a good price. Comparison of quality, reviews and offers on English courses for adults and students in Philippines.
Students rated schools in
1 language school in Philippines, ranging from
945 USD
to 945 USD for a 2 weeks English course including accommodation.

Overall student rating:
4.2

/5.0

(5 reviews)
Price example (2 weeks):
| | |
| --- | --- |
| 945 USD | = |
| 625 USD | General Program (20 Group + 5 Individual) (English Course - 25 lessons per week - 50 minutes per lesson) |
| + 195 USD | Dormitory, Double room, No meals |
| + 125 USD | School's administrative fee |

Paradise English, Boracay Island: We share our campus with the Boracay European International School. Paradise English is nestled atop a hill on the Southern part of the island. A short boat ride from the Caticlan or Tabon, Jetty Port will take you to Boracay Island. From there,... More
Philippines:
The Philippines constitute more than 7000 islands, making it the second largest archipelago in the world. This is why it is the perfect destination if you're looking for beaches, and warm, tropical waters. The majority of the population lives on the main 11 islands, so if you are looking to experience the culture and history of the Philippines, as well as do some shopping, that is where you should go. If you are looking for a more relaxed vacation, you can take advantage of the many beaches and go snorkeling along the coral reefs, Or just sunbathe on the white sand. More English courses are offered in
Australia
,
Canada
,
England UK
,
Ireland
,
Malta
,
New Zealand
,
Scotland
,
South Africa
,
USA
,
Wales
or list all language schools worldwide offering
English courses
.
Worldwide most visited independent site for booking language courses, English lessons & English language classes & English language study abroad programs at English schools in Philippines.