Arabic Language Schools in Morocco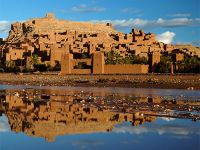 Find the best Arabic school at a good price. Comparison of quality, reviews and offers on Arabic courses for adults and students in Morocco.
Students rated schools in
1 language school in Morocco, ranging from
515 €
to 515 € for a 2 weeks Arabic course including accommodation.

Overall student rating:
4.7

/5.0

(11 reviews)
Price example (2 weeks):
| | |
| --- | --- |
| 515 € | = |
| 230 € | Modern Standard Arabic Course (Arabic Course - 20 lessons per week - 55 minutes per lesson) |
| + 230 € | Homestay, Single room, Half board |
| + 55 € | School's administrative fee |
Dar Loughat - Cross-Cultural Language Center, Tetouan: The school is ideally located in the most beautiful public square of the historic Spanish quarter of Tetouan. The city of Tetouan offers our students the best of Morocco; excellent beaches, evergreen mountains and a World Cultural Heritage city. More
Morocco:
Fusil of culture, Morocco is a country of sensory overload, from the smell of the spices in the souks (the markets) to the beauty of the Riads, traditional Moroccan houses or palaces with an interior garden or courtyard. In all cities, go to the Medina, the old town, to see the beautiful architecture in the maze of streets, markets, and ruins. In the cities by the sea, like the famous movie Casablanca or the capital, Rabat, you can enjoy the sunny beaches as well. Some cities, like Agadir, offer a more modern charm with many resorts, while the city of Fez, with its ancient walled city, offers a more traditional view of the country. More Arabic courses are offered in
Egypt
,
Jordan
,
United Arab Emirates
or list all language schools worldwide offering
Arabic courses
.
Worldwide most visited independent site for booking language courses, Arabic lessons & Arabic language classes & Arabic language study abroad programs at Arabic schools in Morocco.