Most popular destinations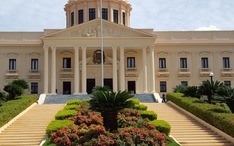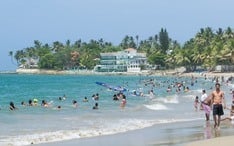 Dominican Republic Language School Ranking based on student ratings - 2 schools
Filter
Map
Interested in online courses?
Information about Dominican Republic
This colorful tapestry of Spanish, French, Haitian and African influences, woven by a rich and storied history, is a beautiful paradise with high-forested mountains and large river valleys. Enjoy sun, sea, sand dazzling landscapes, exotic cuisine, and the great variety of arts and entertainment options in the Dominican Republic. This destination is like no other; the Dominican Republic is a surprising place that will delight even the most experienced traveler.
Key Facts about Dominican Republic
Population: 10,628,000
Capital: Santo Domingo
Time zone: GMT -4
Currency: DOP (1 DOP = 0.0170 EUR)
Telephone country code: +1
Name of country in Spanish: República Dominicana
Largest cities in Dominican Republic:
1. Santo Domingo: 2,200,000
2. Santiago de los Caballeros: 1,200,000
3. Santiago Domingo Oeste: 700,000
4. Santo Domingo Este: 700,000
5. San Pedro de Macoris: 220,000
Visa requirements data last updated on 01 Dec. 2022
(
Source
)
Mains electricity:
Residential voltage:

110 V

Frequency:

60 Hz
Q&A - Questions and answers about Dominican Republic
Do I need a visa for the Dominican Republic?

"

In general, foreigners travelling to the Dominican Republic need a valid passport or equivalent national identity document. All non-resident travelers need to show a round trip ticket as proof of their departure. Citizens of the US, Canada, Germany, Switzerland, Great Britain and several others do not need a visa and are allowed to enter the country after purchasing a tourist card for USD 10.- Lately the tourist card is already included in the air fare - Please check with your carrier. The tourist card allows you to stay for 30 days. A scaled charge applies for longer stays and can be paid when leaving the country. Please contact your state department for more detailed information. All foreign and Dominican passengers entering or leaving Dominican Republic on commercial flights must complete the free electronic entry and exit form, which combines the Traveler's Health Affidavit, Customs Declaration and International Embarkation/Disembarkation forms. The form is available in English, Spanish, French, Italian, German, Portuguese and Russian.

"

Sabine Krafack, LanguageCourse.Net - Dec 19, 2022

Could you tell me what is the difference between Spanish Interactive and Standard Group?

"

Both courses cover all aspects of the language (speaking, reading, listening, and writing), and the main difference between them is that by booking the Interactive Spanish programme, will you have 5 private lessons per week outside the classroom as training sessions in town + 20 group lessons.

"

Ana Carolina Dos Santos, LanguageCourse.Net - Dec 06, 2022

What is the best arrival airport? Do you organize the airport transfer?

"

If you are going to Sosua, the best arrival airport is Puerto Plata (POP), and if you are going to Santo Domingo, SDQ - Las Americas International Airport is the best option. The airport transfers can be organized according to your flight details and the price may vary according to the destination.

"

Ana Carolina Dos Santos, LanguageCourse.Net - Dec 06, 2022

What are the differences between Sosua and Santo Domingo?

"

Santo Domingo is a modern, driven city, with a population of more than 2.5 million inhabitants. It is a vibrant and lively metropolis with many things to be seen and discovered. Sosua is a small tourist town, home to 12,000 inhabitants, and is known for its beautiful beaches and water sports facilities.

"

Ana Carolina Dos Santos, LanguageCourse.Net - Dec 06, 2022

FAQ about courses in Dominican Republic

What is the best language school for adults in Dominican Republic?

Which Spanish school in Dominican Republic has the best location?

Dominican Language School, located in Aristides Fiallo Cabral 456, Zona Universitaria, Santo Domingo has been voted as the school with the best location in Dominican Republic.

Do schools in Dominican Republic offer courses to prepare for Spanish exams? Which exams?

Schools in Dominican Republic offer specific preparation courses for the following exams: DELE.

Do schools in Dominican Republic offer adult Spanish courses combined with courses in sports or other activities?

How much is the cheapest Spanish course in Dominican Republic?

215US$ for 1 weeks is the lowest price for a Spanish course in Dominican Republic. The average cost of a language course in Dominican Republic is 328US$ per week.