How to Book Language Programs Online?
Find the best course and book online at the guaranteed best price in the world with one of the market leaders. Booking a language course abroad has never been so easy! You can also book your accommodation at the same time if you wish.
1
Click on the country you want to go to

2
Select a course duration and other options you might require for a customized price comparison of language schools.

3
Based on the average ratings of our former clients and their prices, it is easy to select your favourite school. Check the detailed school profile for several favourite schools, by clicking on the school name. Most of the leading language schools worldwide can be booked through our website.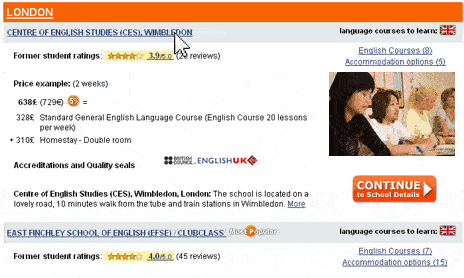 4
Study the in-depth information on the school profile and choose your favourite course and accommodation options. You see the original school prices. Our online reservation system does not charge any agency supplements as many other websites do. No additional costs! No hidden fees!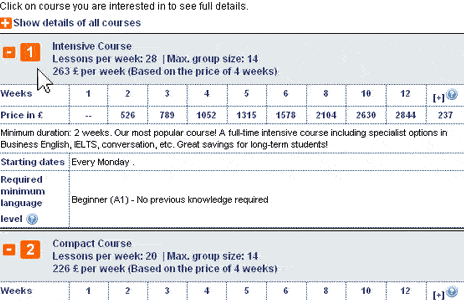 5
Calculate the course price at the bottom of the school page and press the button "Click here to book with 5% discount".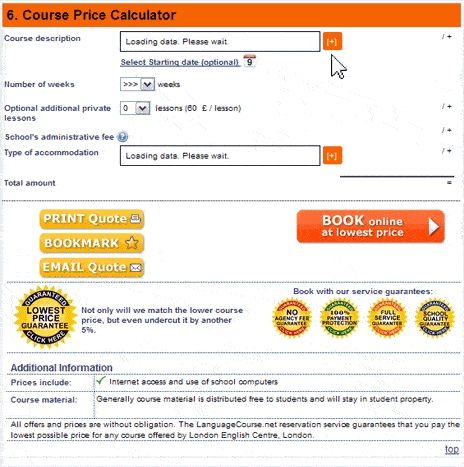 6
Call or email our qualified language travel experts should you have further questions.

7
Submit the online application form. We guarantee that there is no other place in the world where you will be able to register for this language course at a lower price. For all schools with button "Click here to book with 5% discount" you will even pay 5% less than when booking directly with the school.

8
You do not yet have to pay full fees. To guarantee your placement, schools require a deposit of only 10-30% of the fees, depending on the policies of each school. The deposit will only be charged if the school confirms exactly the specified course.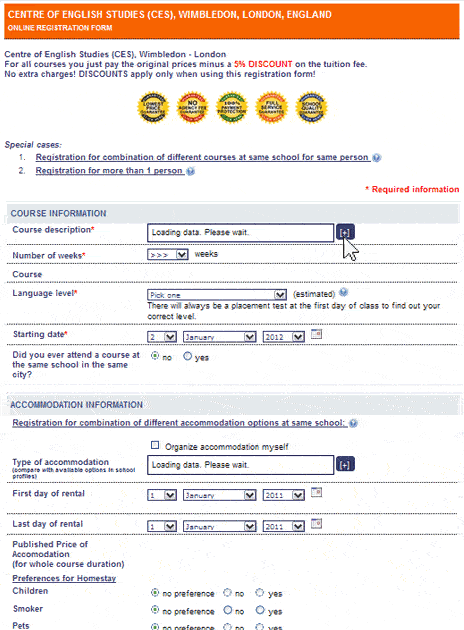 9
Within about 2 to 3 business days the school will issue a booking confirmation for the course and accommodation, which you receive from our consultant upfront as PDF.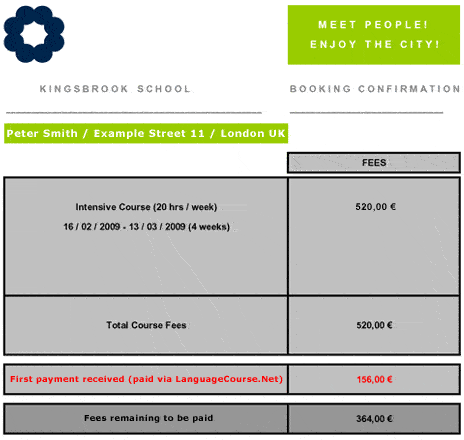 10
Secure Payment directly to school. The school will provide payment details in the invoice.

It's that easy. If you have any questions about the process do not hesitate to &&LINK_START&&contact&&LINK_END&& our language travel experts.