Best language schools in Valencia (ranked based on student reviews)
Find the best Spanish school in Valencia at the lowest price. Compare quality, reviews and special offers for adult courses. Learn Spanish in Valencia.
COVID-19 RELATED INFORMATION FOR Spain
The state of emergency officially ended on June 21 and Spain reopened its borders with most of the EU countries. There will be a gradual opening of borders with non-EU countries based on a list of safe countries prepared and approved by the European Commission, and will be subject to restrictions related to epidemiological situation of the country of origin.
From 1 July, if you fly to Spain from other countries, it is mandatory to fill out and sign the Health Control Form associated with your trip, regardless of your nationality, age or any other consideration.
Hygiene measures: all schools are subject to follow a protocol on cleaning and disinfection which is in accordance with national laws and recommendations. Students have to maintain a distance of 1.5 metres in the class, and school premises and it is enforced to wash and disinfect hands often and constantly; hand sanitizers are provided in all rooms and in the common areas. The use of masks is obligatory.
Accommodation: shared rooms are not available at the moment due to the distancing rules, but single rooms are available in residences.
In public, people must stay 1.5 metres apart and it's mandatory to wear a mask in public transport and public spaces.
In public (inside and outside), when not possible to keep social distance, face masks are mandatory for anyone aged 6 and over, following recommendations from the World Health Organisation.
Bars and restaurants are adhering to strict social distancing regulation, regular disinfection and cleaning protocols, and they are only allowed to service in a reduced percentage of their capacity.
Cinemas and Theatres are open at 30% capacity.
Last revision/update: 14 July 2020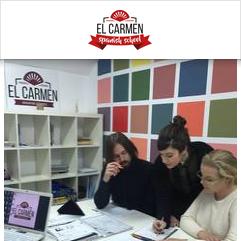 Covid-19 Status:
School currently open
The school is located in El Carmen quartier, in the ancient town of Valencia, very near from some of the most historical streets, and 5 minutes walking from the famous Mercado Central (Central Market), the Lonja de la seda and the Cathedral. The facilities are completely adapted to the students needs and are a perfect mix of modern architecture and history. So, if you like enjoying activities, a... More
Quality of teaching:
4.3

/

5.0

Social activity and excursion program:
2.5

/

5.0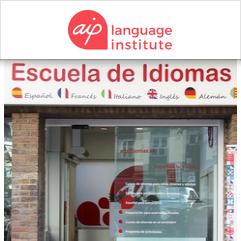 Covid-19 Status:
School currently open
Located in one of the safest and richest neighbourhoods of Valencia. The school is within walking distance from the 2 university campuses which gives students the opportunity to live in a university environment. It is close to the city centre, with good connections to the beach using the tram. More
Quality of teaching:
4.7

/

5.0

Social activity and excursion program:
4.3

/

5.0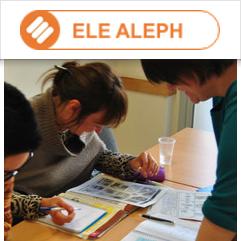 Covid-19 Status:
School currently open
ELE Aleph is located in the beautiful coastal city of Valencia, Spain. The school is housed in a traditional 1920's building in the heart of the city, moments away from attractions such as the old town gates Torres de Quart, the Mercat Central and the Llotja de la Seda. With the golden beaches of the Valencian coastline only a bus ride away, the ELE Aleph school is well communicated and offers... More
Quality of teaching:
4.8

/

5.0

Social activity and excursion program:
4.0

/

5.0