Palma de Mallorca language school ranking based on student ratings - 4 schools
Filter
Map
Interested in online courses?
Palma de Mallorca ratings & opinions
How our students rated their experience in Palma de Mallorca
Overall attractiveness of Palma de Mallorca
152 authentic ratings from students who reserved a course with us in Palma de Mallorca
What our students said about Palma de Mallorca
5.0
Very nice city, clean and safe. Good to explore on foot at all times. The "Ballermann" crowd is obviously not in the city, but rather on the outskirts. The gastronomy offers a paradise for vegans, from simple to very upscale cuisine, everything is there!
Andreas
Germany
5.0
Of course, there is a lot of tourism, especially in the city centre. If you leave these well-trodden paths, there is much to discover. You just have to have courage.
Volker
Germany
4.0
Great historic centre, beautiful, clean, idyllic, well-maintained, safe and convenient with plenty of culture and many nice shops, terraces and Spanish restaurants.
Marlies
Netherlands
4.0
A charming city (even in sizzling summer temperatures) with a lot of history, individual architecture from many eras and styles. A little short of cultural events.
Peter
Germany
4.0
Good place to learn Spanish, quiet out of season. Nice old town with many sights. Unfortunately, there are many buildings on the coastline.
Jochen
Germany
5.0
As I love the island and go there often, it was important for me to learn the local language.
Dirk
Germany
5.0
Palma de Mallorca is very beautiful. The only drawback is that it has become quite expensive.
Nicolas
Germany
5.0
The hotels are too expensive and medium quality only, the beach was dirty and not nice.
Anja
Germany
5.0
Very good. We also stayed in a nice hotel with only 5 min to the school.
Helena
Sweden
5.0
One of the most beautiful cities on the Mediterranean Sea
Reinhard
Spain
4.0
Great city, lots of sights and excellent places to eat.
Dorothee
Germany
Information about Palma de Mallorca
Why Palma de Mallorca? The capital of the island of Mallorca clearly demonstrates its long association with maritime commerce and its history as a major Mediterranean port. The old city is beautifully situated on the Bay of Palma with modern developments to the east and west. Palma is overlooked by the 14th-century Castle of Belver, and other notable buildings include the golden sandstone cathedral (La Seo), the Archbishop's Palace, the Monastery and the Church of San Francisco. Apart from these major buildings, there are many beautiful palaces and churches in the city, many of which were built from the profits of commerce. Besides this, you can find a lots of bars, restaurants and shops in the centre of this stunning city
What we like about Palma de Mallorca
Fabulous food choices.
Fantastic Mediterraneon climate.
Wonderful nature, with lots of outside activities.
Nice lifestyle.
What we dislike about Palma de Mallorca
Very humid and damp.
Very touristy in areas.
Key Facts about Palma de Mallorca
Population: 410,000
Time zone: +11h. (GMT +1)
Region: Balearic Islands, Illes Balears
Currency: EUR (1 EUR = 1.0953 USD)
Visa requirements data last updated on 01 Dec. 2022
(
Source
)
High season: July
Low season: December
Average course price per week (High season): 193 €
Average course price per week (Low season): 219 €
Cost of Living:
Big Mac price (Spain average):

4.35 €

(7% cheaper than in USA)
Mains electricity:
Residential voltage:

230 V

Frequency:

50 Hz
Weather in Palma de Mallorca
Climate Table
Legend:
Midday Temperature
Night-time Temperature
57.2 °F
55.4 °F
57.2 °F
59 °F
62.6 °F
69.8 °F
75.2 °F
77 °F
75.2 °F
69.8 °F
64.4 °F
59 °F
40

mm
30

mm
30

mm
30

mm
30

mm
20

mm
0

mm
10

mm
50

mm
70

mm
50

mm
50

mm
Events in Palma de Mallorca
Best time to take a language course in Palma de Mallorca
San Sebastian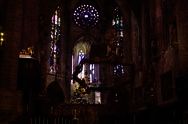 January 2024Palma's patron saint is celebrated with fire and light on the eve of his day, 20 Jan. Bonfires, fireworks, a correfoc and pyrotechnics are all part of the programme along with concerts, theatre shows and exhibits.
San Antoni
January 2024During the San Antoni festival, the streets of Palma de Mallorca come alive with parades, music, and dancing. One of the highlights is the "Correfoc," a dazzling display of fireworks and sparklers. You'll also witness the heartwarming "beneides" ceremony, where animals are blessed in the streets.Food lovers will be spoilt for choice as they will have the opportunity to sample a variety of traditional Mallorcan dishes. This is also a great way to immerse yourself in the local culture, and quickly become acquianted with the spirit of the local population.
Sa Rua (Carneval)
February 2024During Carnival, the city comes alive with colorful parades, music, dancing, and elaborate costumes.The streets of Palma de Mallorca are filled with excitement as locals and visitors join in the festivities. Parade floats adorned with imaginative designs and vibrant decorations make their way through the city, accompanied by marching bands and dance troupes. People of all ages participate int he festivities, wearing costumes ranging from traditional outfits to imaginative and humorous creations.
Fira de l'Oli
April 2024The Feria de la Oliva in Mallorca is a vibrant and cultural event that celebrates the rich olive heritage of the island. Mallorca, known for its picturesque landscapes and traditional agricultural practices, has a long-standing history of olive cultivation and olive oil production.During the Olive Fair, locals and visitors gather to partake in a variety of activities and experiences related to olives. The fair typically takes place in a central location, such as a town square or a dedicated fairground, and lasts for several days.
La Festa des Vermar
September 2024The Festa des Vermar, or Grape Harvest Festival, is a vibrant and traditional celebration held in Mallorca, a beautiful island in the Mediterrean Sea. This festival pays homage to the island's rich winemaking heritage and marks the culmination of the grape harvest season. During the Festa des Vermar, locals and visitors gather in the picturesque village of Binissalem, renowned for its vineyards and wine production. The festivities typically take place in late September when the grapes are at their peak ripeness. Participants can look forward to the lively grape-stomping competition.
What to do in Palma de Mallorca
La Seu Cathedral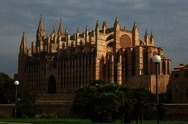 Old City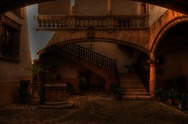 Cathedral Area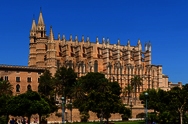 Palma de Mallorca

Arrival airport
Palma de Mallorca (PMY)
- 7 km. from Palma de Mallorca city center
Public transportation to city center:
Every 10 minutes, 20 minutes.
Main stops: Palma de Mallorca Airport, Gabriel Alomar 1
Taxi: 10 minutes drive to city center of Palma de Mallorca
Q&A - Questions and answers about Palma de Mallorca
Can private lessons be scheduled in the evenings?

"

Depending on the school's availability at the time of your course, private lessons might be possible in the evenings. Just let us know when you want to study and we will check what is available!

"

Louise Granath, LanguageCourse.Net - Nov 25, 2022

FAQ about courses in Palma de Mallorca

What is the best language school for adults in Palma de Mallorca?

Die Akademie has received the best overall rating in Palma de Mallorca.

Which Spanish school in Palma de Mallorca has the best location?

Die Akademie, located in Calle Morei 8, Casa 18, Casco Antiguo has been voted as the school with the best location in Palma de Mallorca.

How did students rate Palma de Mallorca compared to other cities?

Students rated Palma de Mallorca with 4.8 stars out of 5.

What is the best airport to arrive to in Palma de Mallorca?

What is the best month to travel to Palma de Mallorca?

Didn't find what you are looking for?

Interested in language travel to other cities? Have a look at Spanish language schools in other cities in Spain such as Alcala de Henares, Alicante, Almeria, Almuñécar, Barbate (Cadiz)

...

, Barcelona, Bilbao, Cadiz, Castelldefels, Conil de la Frontera, Denia, El Médano (Tenerife), El Puerto de Santa María, Elche, Gijón, Girona, Granada, Ibiza, Jaén, Jerez de la Frontera, Lanzarote, Las Palmas, Leon, Madrid, Mahón (Menorca), Malaga, Marbella, Murcia, Nerja, Pamplona, Platja d'Aro (Costa Brava), Prado del Rey, Salamanca, San Pedro de Alcántara, San Sebastian, Santander, Santiago de Compostela, Sevilla, Soria, Tarragona, Tenerife, Valencia, Vejer de la Frontera, Vigo, Zaragoza or see our list of all schools in Spain. You may also want to consult options outside Spain for learning Spanish.