Pamplona Language School Ranking based on student ratings - 9 schools
Filter
Map
Interested in online courses?
Pamplona ratings & opinions
How our students rated their experience in Pamplona
Overall attractiveness of Pamplona
11 authentic ratings from students who reserved a course with us in Pamplona
What school directors said about Pamplona
"Pamplona can consider itself a privileged city due to the variety of cultural and leisure activities on offer, its streets full of buildings of artistic-historical interest, its rich and varied gastronomy, its world famous festival of San Fermín, its respect for the environment, and of course the friendliness of its people."
Information about Pamplona
Why Pamplona? Pamplona makes for a fascinating place to explore. There's a lot of history hidden in the atmospheric medieval lanes here, grand cathedrals, archaeological treasures and 16th-century fortifications are all found in the same place. Couple these with the lush parks and picturesque streets full of vibrant eating and drinking spots, it's easy to see why so many have fallen under the citys spell. It is a major stop along the Camino de Santiago, a medieval-era pilgrimage route that dates back many centuries, so the village sees a lot of pilgrims arriving on foot. The famous running of the bulls is held here and during this multiday festival, bulls run through the city streets with daredevil runners, not for the faint-hearted!
Key Facts about Pamplona
Population: 210,000
Elevation: 460 m. above sea level
Time zone: +11h. (GMT +1)
Region: Navarre, Provincia de Navarra
Currency: EUR (1 EUR = 1.0665 USD)
Visa requirements data last updated on 01 Dec. 2022
(
Source
)
High season: July
Low season: December
Average course price per week (High season): 410 €
Average course price per week (Low season): 173 €
Cost of Living:
Big Mac price (Spain average):

4.47 €

(7% cheaper than in USA)
Mains electricity:
Residential voltage:

230 V

Frequency:

50 Hz
Weather in Pamplona
Climate Table
Legend:
Midday Temperature
Night-time Temperature
32 °F
32 °F
32 °F
32 °F
32 °F
32 °F
32 °F
32 °F
32 °F
32 °F
32 °F
32 °F
63

mm
52

mm
52

mm
77

mm
74

mm
47

mm
40

mm
43

mm
43

mm
74

mm
80

mm
75

mm
Events in Pamplona
Best time to take a language course in Pamplona
San Fermín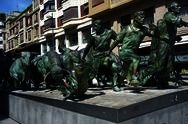 July 2024The most famous event of the Sanfermines is the running of the bulls but there is more to the party than that. There are fireworks displays every night, daily processions with Pamplona's Gigantes (giant papier-maché figures), traditional music, concerts and bullfights.
What to do in Pamplona
Cathedral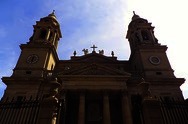 Navarra Museum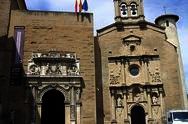 Citadel & Parks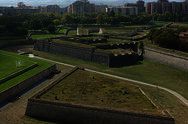 Pamplona

Arrival airport
Pamplona (PNA)
- 5 km. from Pamplona city center
Public transportation to city center:
Every 20 minutes, 15 minutes.
Main stops: Noáin, C/Real (M. de Tudela), Polígno Talluntxe, Cordovilla Ctra Zaragoza, Avenida Zaragoza, c/Yanguas y Miranda n°19
Taxi: 8 minutes drive to city center of Pamplona
Public transportation in Pamplona
Q&A - Questions and answers about Pamplona
Do you really post all reviews from former students?

"

We are an independent partner of the schools and so all reviews are always posted uncensored. We also post all negative reviews given by students, as these are very important, so that students know what to expect.

"

Robin Rebecca Pietersma, LanguageCourse.Net - Jun 29, 2023

FAQ about courses in Pamplona

What is the best language school for adults in Pamplona?

Which Spanish school in Pamplona has the best location?

Which schools in Pamplona offer the best excursions and afternoon activities?

Which Spanish school offers the best rated teaching in Pamplona?

Which school offers the best accommodation in Pamplona?

Is there any guarantee that I will be placed in a group if I book a group course?

"

Being able to offer a group course at the right level is always exciting for any school, as you just have to be lucky that there are enough other students of your level. It is therefore quite common that if there are not enough students of your level, you will be offered private lessons.

"

Robin Rebecca Pietersma, Language Travel Consultant Dutch from LanguageCourse.Net - Jun 29, 2023

Didn't find what you are looking for?

Interested in language travel to other cities? Have a look at Spanish language schools in other cities in Spain such as Alcala de Henares, Alicante, Almeria, Almuñécar, Barbate (Cadiz)

...

, Barcelona, Bilbao, Cadiz, Castelldefels, Conil de la Frontera, Denia, El Médano (Tenerife), El Puerto de Santa María, Elche, Gijón, Girona, Granada, Ibiza, Jaén, Jerez de la Frontera, Lanzarote, Las Palmas, Leon, Madrid, Mahón (Menorca), Malaga, Marbella, Murcia, Nerja, Palma de Mallorca, Platja d'Aro (Costa Brava), Prado del Rey, Salamanca, San Pedro de Alcántara, San Sebastian, Santander, Santiago de Compostela, Sevilla, Sitges, Soria, Tarragona, Tenerife, Valencia, Vejer de la Frontera, Vigo, Zaragoza or see our list of all schools in Spain. You may also want to consult options outside Spain for learning Spanish.