Boquete Language School Ranking based on student ratings - 3 schools
Filter
Map
Interested in online courses?
Boquete ratings & opinions
How our students rated their experience in Boquete
Overall attractiveness of Boquete
5 authentic ratings from students who reserved a course with us in Boquete
What school directors said about Boquete
Boquete has an amazing climate which makes it a perfect place for learning Spanish. Staying at a homestay makes you really immerse.
Most recent student reviews of language schools in Boquete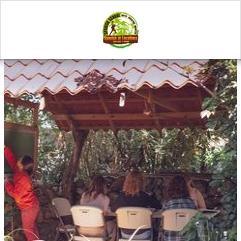 teachers
Fantastic professors and family with whom I lived. Conditions were perfect and clean. Only superlatives. I recommend to all. Virginia is fantastic and competent.

8 February 2017
Course: Standard Spanish - 2 weeks
Student age: 68 years
Information about Boquete
Why Boquete? Boquete, is a small town on the Caldera River, in western Panama and with its cool, fresh climate and pristine natural surroundings boasts flowers, coffee, vegetables and citrus fruits which flourish in its rich soil. Its location provides endless sources for those that love adventure. Choose from many activities such as rock climbing, zip lining, whitewater rafting, forest walks, mountain hikes and horseback riding.
Key Facts about Boquete
Population: 7,000
Time zone: +5h. (GMT -5)
Region: Chiriquí,
Currency: PAB (1 PAB = 1.0001 USD)
Visa requirements data last updated on 01 Dec. 2022
(
Source
)
High season: January
Low season: June
Average course price per week (High season): 1,785 €
Average course price per week (Low season): 253 US$
Mains electricity:
Residential voltage:

110 V / 120 V

Frequency:

60 Hz
Weather in Boquete
Climate Table
Legend:
Midday Temperature
Night-time Temperature
32 °F
32 °F
32 °F
32 °F
32 °F
32 °F
32 °F
32 °F
32 °F
32 °F
32 °F
32 °F
29

mm
16

mm
43

mm
96

mm
286

mm
348

mm
235

mm
333

mm
435

mm
359

mm
294

mm
63

mm
Arrival airports
Tocumen International (PTY)
- 337 km. from Boquete city center
Public transportation to city center:
2 per day, 105 minutes.
Main stops: Panama City, David
Taxi: 360 minutes drive to city center of Boquete
Kūh-e Takhteh (DAV)
- 12399 km. from Boquete city center
Public transportation to city center:
Taxi: 45 minutes drive to city center of Boquete
Q&A - Questions and answers about Boquete
I am interested in booking a 1-week course including accommodation in a private apartment. What options for accommodation are available?

"

We can organize a homestay accommodation or a hostel accommodation with a private bathroom if you like. At the time of writing, private apartments are not available.

"

Ana Carolina Dos Santos, LanguageCourse.Net - Dec 01, 2022

FAQ about courses in Boquete

What is the best language school for adults in Boquete?

Which Spanish school in Boquete has the best location?

Spanish by the River, located in Plaza San Francisco, 180 metres to the left. , Alto Boquete has been voted as the school with the best location in Boquete.

What type of business Spanish courses are offered in Boquete?

In Boquete the following courses are offered specifically for business Spanish: Medical Spanish.

Do schools in Boquete offer courses to prepare for Spanish exams? Which exams?

Schools in Boquete offer specific preparation courses for the following exams: DELE.

Do schools in Boquete offer adult Spanish courses combined with courses in sports or other activities?

In Boquete there are course packages where you can learn the following activities: Spanish & Yoga.

Other destinations that were popular to combine with courses in Boquete

Bocas del Toro

2 schools

Panama City

3 schools

Didn't find what you are looking for?