Tbilisi language school ranking based on student ratings - 2 schools
Filter
Map
Interested in online courses?
Tbilisi ratings & opinions
How our students rated their experience in Tbilisi
Overall attractiveness of Tbilisi
10 authentic ratings from students who reserved a course with us in Tbilisi
What our students said about Tbilisi
4.0
Tbilisi is a very beautiful city, but too hot in summer
Dieter
Germany
2.0
I know a Tbilisi well. It's not my first time
Iris
Australia
Information about Tbilisi
Why Tbilisi? A big part of Tbilisi's eternal charm is derived from its dramatic setting in the deep valley of the swift Mtkvari River. Tbilisi has come a long way since its revolution outed the post-Soviet Shevardnadze government. Its cobble-stoned old town reflects a long, complicated history, with periods under Russian and Persian rule. Its interesting mix of architecture encompasses Eastern Orthodox churches, Soviet Modernist structures and eye-catching contemporary structures. Today it sports an ever-lively arts and cultural scene, inviting cafes, funky bars and clubs, spruced-up museums, galleries and parks. All of which make it an interesting and fun city to both visit and live in compared to what it was less than a decade ago.
Key Facts about Tbilisi
Population: 1,050,000
Time zone: +14h. (GMT +4)
Region: T'bilisi,
Currency: GEL (1 GEL = 0.3711 USD)
Name of city in Russian: Тбилиси
Visa requirements data last updated on 01 Dec. 2022
(
Source
)
High season: August
Low season: October
Average course price per week (High season): 250 €
Average course price per week (Low season): 271 €
Cost of Living:
* 100 = prices in New York
Price index excluding rent:

31* (69% cheaper than New York)

Price index including rent:

21* (79% cheaper than New York)
Price index food only:

25* (75% cheaper than New York)
Mains electricity:
Residential voltage:

220 V

Frequency:

50 Hz
Weather in Tbilisi
Climate Table
Legend:
Midday Temperature
Night-time Temperature
32 °F
32 °F
32 °F
32 °F
32 °F
32 °F
32 °F
32 °F
32 °F
32 °F
32 °F
32 °F
10

mm
20

mm
30

mm
50

mm
80

mm
70

mm
40

mm
40

mm
40

mm
30

mm
30

mm
20

mm
What to do in Tbilisi
Open-Air Museum of Ethnography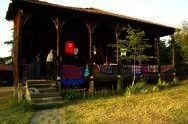 Arrival airport
Tbilisi International (TBS)
- 10 km. from Tbilisi city center
Public transportation to city center:
Every 15 minutes, 25 minutes.
Main stops: Varketili, Samgori, 300 Aragveli, Tavisuplebis Moedani
Taxi: 20 minutes drive to city center of Tbilisi
FAQ about courses in Tbilisi