Best language schools in Tbilisi (ranked based on student reviews)
You are interested in learning Russian in Tbilisi? We have researched all the details about the best Russian language schools in Tbilisi for you so that you can easily compare prices, reviews, courses for adults and teenagers and special offers.
Filter
Map
Didn't find what you are looking for?
Interested in language travel to
other cities
? Have a look at Russian language schools in other cities in Georgia such as or see our list of all
schools in Georgia
. You may also want to consult options outside Georgia for
learning Russian
.
Why Tbilisi? A big part of Tbilisi's eternal charm is derived from its dramatic setting in the deep valley of the swift Mtkvari River. Tbilisi has come a long way since its revolution outed the post-Soviet Shevardnadze government. Its cobble-stoned old town reflects a long, complicated history, with periods under Russian and Persian rule. Its interesting mix of architecture encompasses Eastern Orthodox churches, Soviet Modernist structures and eye-catching contemporary structures. Today it sports an ever-lively arts and cultural scene, inviting cafes, funky bars and clubs, spruced-up museums, galleries and parks. All of which make it an interesting and fun city to both visit and live in compared to what it was less than a decade ago.
Interested in online courses?
Which school to choose?
Get free advice from our language travel experts to help you find the best school for you.
What our students said about Tbilisi
2.0
I know a Tbilisi well. It's not my first time
Iris
Australia
Most recent student reviews of language schools in Tbilisi
Authentic, unpretentious and the teacher was kind and patient.
No social events are organised in Winter, but that is understandable as there are fewer students.

6 February 2018
Course: Standard Course - 2 weeks
Student age: 24 years
Claudia
Australia
Nothing was right, it seems to me this is a scam. Too expensive for really bad teaching in something named school that doesn't even have a sign on the 3 rooms it owns in a building.
The teacher was nearly only speaking to me in English. I was just reading the book and the only interaction was asking for vocabulary. Even reading dialogues, I would have to read all the characters myself. How can you learn the pronunciation or the rhythm if no one is speaking to you in the language you're learning? You're paying for the lessons, but the teacher tries to finish early each day.

21 August 2016
Course: Standard Course - 1 week
Student age: 33 years
Camille
France
Private lessons, free choice of materials, the personal contact with the teacher, the respondance to requests.
Language Centre, no tourism center.

5 July 2016
Course: Standard Course - 1 week
Student age: 65 years
Gisela
Germany
Most popular Russian course types in Tbilisi
Key Facts about Tbilisi
According to Mercer 2019, Tbilisi ranks 187 in terms of quality of life.
Population: 1,050,000
Time zone: +14h. (GMT +4)
Region: T'bilisi,
Currency: GEL (1 GEL = 0.3263 USD)
Name of city in Russian: Тбилиси
Tbilisi quality of life rating:

4.9 (8 reviews by our former students)
Cost of Living:
* 100 = prices in New York
Student price index excluding rent:

31* (69% cheaper than New York)

Student price index including rent:

21* (79% cheaper than New York)
Price index food only:

25* (75% cheaper than New York)
Mains electricity:
Residential voltage:

220 V

Frequency:

50 Hz
Map with location of Russian schools in Tbilisi



Weather in Tbilisi
Climate Table
Legend:
Midday Temperature
Night-time Temperature
32 °F
32 °F
32 °F
32 °F
32 °F
32 °F
32 °F
32 °F
32 °F
32 °F
32 °F
32 °F
10

mm
20

mm
30

mm
50

mm
80

mm
70

mm
40

mm
40

mm
40

mm
30

mm
30

mm
20

mm
What to do in Tbilisi
Open-Air Museum of Ethnography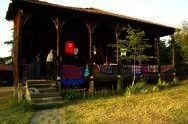 Arrival Airport
Tbilisi International (TBS)
- 10 km. from Tbilisi city center
Public transportation to city center:
Every 15 minutes, 16,00 GEL, 25 minutes.
Main stops: Varketili, Samgori, 300 Aragveli, Tavisuplebis Moedani
Taxi: 32 GEL, 20 minutes drive to city center of Tbilisi