Most popular destinations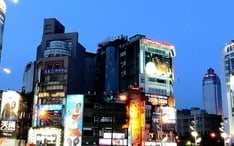 Taiwan Language School Ranking based on student ratings - 7 schools
Filter
Map
Interested in online courses?
Information about Taiwan
Taiwan is a small island off the coast of China. It's modern capital, Taipei, is a great base to explore the country. Visit the city's night markets and tickle your taste buds with the taiwanese cuisine, meet the locals by jumping into its eclectic nightlife and learn more about its culture at one of it's temples. Thanks to it's perfect climate for growing coffee, Taiwan has a very strong coffee culture so be sure to try a cup in one of its numerous coffee shops. This small island homes nine National Parks, all with their own unique experience. Taroko National Park is the most talked about with its marble gorge and breathtaking scenery.
Key Facts about Taiwan
Population: 23,452,000
Capital: Taipei
Time zone: GMT +8
Currency: TWD (1 TWD = 0.0304 EUR)
Telephone country code: +886
Name of country in Chinese: 台湾
Largest cities in Taiwan:
1. Taipei: 7,900,000
2. Kaohsiung City: 1,500,000
3. Taichung: 1,000,000
4. Tainan City: 770,000
5. Banciao: 545,000
Visa requirements data last updated on 01 Dec. 2022
(
Source
)
Cost of Living:
Big Mac price (Taiwan average):

77.01 TWD

(43% cheaper than in United Kingdom)
Mains electricity:
Residential voltage:

110 V

Frequency:

60 Hz
Q&A - Questions and answers about Taiwan
I am planning a trip to Taiwan to study for a month and would like to know what is the best time of the year to visit the country.

"

Weather-wise, September to November is considered the best time of the year to visit Taiwan. This season offers the perfect combination of cool and dry weather. During most of September, the south stays warm, but temperatures begin to cool down in northern Taiwan, although they're still pleasant.

"

Rubén De Haro, LanguageCourse.Net - Dec 09, 2022

FAQ about courses in Taiwan

What is the best language school for adults in Taiwan?

Which Chinese school in Taiwan has the best location?

Globe Mandarin School, located in 6th Floor,No.191,Section 3, Roosevelt Road, Taipei has been voted as the school with the best location in Taiwan.

Which school offers the best accommodation in Taiwan?

What is the recommended course duration?

You can take courses for just 1 week. For significant progress opt for longer durations.

Will my phone/laptop's power adaptor work in Taiwan?

Do quotes for schools in Taiwan also include return flights?

"

No, unfortunately the quote only covers course fees and accommodation. Transport costs are the responsibility of the student.

"

Madly Simba, Language Travel Consultant French from LanguageCourse.Net - May 29, 2023