6 Cambridge Proficiency Certificate courses in Cape Town offered by 5 language schools - 4 week English course.
These English language courses are tailored to prepare you for the Cambridge Proficiency Certificate exam.
Lessons per week: 30 (50 minutes per lesson)
Max. students per class: 12
Starting dates: Every Monday
Exam fee: 150 US$

Comments: The course aims to give a student a comprehensive knowledge of the language, a wide-ranging vocabulary and good speaking and listening styles. It allows him/her to go up to the management level in the corporate industry or undertake a study programme in the English language.

Covid-19 Status:
School currently open
Lessons per week: 25 (50 minutes per lesson)
Max. students per class: 10
Starting dates: 28 Sep. 2020
Average examination results: 93% Cambridge Proficiency Certificate
Exam fee: 160 €

Comments:
Starting dates:
- 9-week course: 06 Jan.
- 10-week course: 30 Mar, 28 Sep.
Students starting on 30 March and 28 September require an extra week of accommodation for the exam.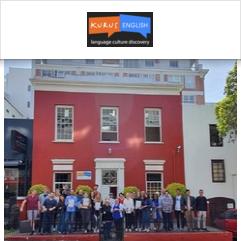 Lessons per week: 32 (50 minutes per lesson)
Max. students per class: 8
Starting dates: 05 Oct. 2020
Exam fee: 200 US$
Exam dates: 07 Mar. 2020 - 14 Mar. 2020, 06 Jun. 2020 - 13 Jun. 2020, 05 Dec. 2020 - 12 Dec. 2020