Best language schools in La Ceiba (ranked based on student reviews)
Filter
Map
Methodology of language school ranking
This ranking of language schools in La Ceiba is 100% transparent. It is
exclusively based on the objective criteria of authentic reviews of clients
who booked their language course at our site, and whose
attendance was verified
. The
primary ranking criteria is the average overall student satisfaction
rating (
detailed information about the methodology
).
Didn't find what you are looking for?
Interested in language travel to other cities? Have a look at Spanish language schools in other cities in Honduras such as Tegucigalpa or see our list of all schools in Honduras.
You may also want to consult options outside Honduras for learning Spanish.
Why La Ceiba? La Ceiba is the third largest city of Honduras, located on the Caribbean

...
Coast. It is a lively town which beats to the rhythm of its Latin, Caribbean and Afro-Antillian culture.
Interested in online courses?
How our students rated their experience in La Ceiba
Overall city attractiveness
19 authentic reviews from students who reserved with us
What school directors said about La Ceiba

La Ceiba is a lively port town, close to the famous Bay Islands of Utila and Roatan which possess the second largest coral reefs in the world after Australia which makes it ideal for scuba diving and snorkeling. People are very friendly, talkative and easy-going, great to practice your Spanish.
Most popular Spanish course types in La Ceiba
Interesting information about La Ceiba
Key Facts about La Ceiba
Population: 131,000
Time zone: -2h. (GMT -6)
Region: Atlántida,
Currency: HNL (1 HNL = 2.2471 DOP)
High season: July
Low season: February
Average course price per week (High season): 335 US$
Average course price per week (Low season): 255 US$
Cost of Living:
Big Mac price (Honduras average):

86.25 HNL (14% cheaper than in United Kingdom)
Mains electricity:
Residential voltage:

110 V

Frequency:

60 Hz
Map with location of Spanish schools in La Ceiba



Public transportation in La Ceiba
Weather in La Ceiba
Climate Table
Legend:
Midday Temperature
Night-time Temperature
330

mm
260

mm
180

mm
90

mm
90

mm
130

mm
150

mm
160

mm
200

mm
390

mm
390

mm
400

mm
Arrival Airports
La Ceiba (LCE)
- 7 km. from La Ceiba city center
Public transportation to city center:
Taxi: 641 HNL, 8 minutes drive to city center of La Ceiba
Ramón Villeda Morales International (SAP)
- 127 km. from La Ceiba city center
Public transportation to city center:
3 per day, 164,00 HNL, 160 minutes.
Main stops: San Pedro Sula, La Ceiba
1 per day, 2 340,00 HNL, 30 minutes.
Main stops: San Pedro Sula (SAP), La Ceiba (LCE)
Taxi: 170 minutes drive to city center of La Ceiba
Other destinations that were popular to combine with courses in La Ceiba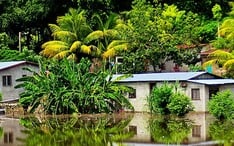 Tegucigalpa
1 school