3 Best language schools in Pretoria (ranked based on student reviews)
Filter
Map
How we create the points regarding what we like/dislike about a school
Map with location of English schools in Pretoria



English course types in Pretoria
Interested in online courses?
Interesting information about Pretoria
Why Pretoria? Where Johannesburg is sassy, sexy and fast, the suburb of Pretoria is a

...
smaller more sedate and conventional city with a sunny temperate climate, exuberant gardens, historical buildings, museums, galleries, theatres and entertainment venues. Pretoria's buzzing urban life is centred around great eats and entertainment, and it comes alive in the evenings, thanks to its large university student population. And if it's authentic South African cuisine you're looking for, then look no further!
Key Facts about Pretoria
Population: 1,620,000
Time zone: +12h. (GMT +2)
Region: Gauteng, City of Tshwane Metropolitan Municipality
Currency: ZAR (1 ZAR = 0.0572 USD)
Visa requirements data last updated on 01-12-2022
(
Source
)
Cost of Living:
* 100 = prices in New York
Student price index excluding rent:

55* (45% cheaper than New York)

Student price index including rent:

36* (64% cheaper than New York)
Price index food only:

44* (56% cheaper than New York)

Big Mac price (South Africa average):

40.88 ZAR

(55% cheaper than in USA)
Mains electricity:
Residential voltage:

230 V

Frequency:

50 Hz
Other destinations that were popular to combine with courses in Pretoria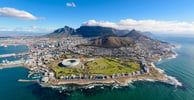 Cape Town
14 schools
FAQ about schools in Pretoria
How much is the cheapest English course in Pretoria?

1808ZAR for 2 weeks is the lowest price for an English course in Pretoria. The average cost of a language course in Pretoria is 0ZAR per week.

What are the costs of living in Pretoria?

Didn't find what you are looking for?