Filter
Map
Methodology of language school ranking
This ranking of language schools in Samara is 100% transparent. It is
exclusively based on the objective criteria of authentic reviews of clients
who booked their language course at our site, and whose
attendance was verified
. The
primary ranking criteria is the average overall student satisfaction
rating (
detailed information about the methodology
).
Didn't find what you are looking for?
Why Samara? Samara Beach offers a laid-back vibe and beautiful beach setting appealing

...
to just about any visitor. Its not crowded, its not loud, its not in your face and it has all the comforts that you might enjoy while on holidays. There is a good selection of restaurants, cute boutiques, yoga retreats and an abundance of tours and activities. On the surface it's just a laid-back beach town where the sea is calm and beautiful. It's not spectacular, its low-key and mellow. Be careful, many people living here now only came visiting on vacation, but the longer you stay the less likely it is that you´ll leave.
Interested in online courses?
What our students said about Samara
4.0
As a woman traveling alone it was not possible to try the night life. The dogs are out of control and unpredictable. They also defend the families on the beach.
Mirjam
Switzerland
4.0
The city in combination with the beach is great. Lots of opportunities for social life or just the beach. Overall also recommended for longer stays.
Janine
Germany
5.0
Samara is very nice compared to San Jose: there are no barbed wires around the houses. Still it would not be wise to wander around night time.
Hannele
Finland
4.0
The nice thing about Sámara is the beach, otherwise the town or village doesn't offer much. There are some excellent restaurants
Christa
Switzerland
5.0
Samara is a small place on a fantastic bay, with quite a lot of tourist shops and bars. It's a bit of real "Tico" life.
Ralf
Germany
4.0
Super location, with a fantastic beach where you can swim really well.
Beate
Germany
How our students rated their experience in Samara
Overall city attractiveness
15 authentic reviews from students who reserved with us
Most recent student reviews of language schools in Samara
Most popular Spanish course types in Samara
Interesting information about Samara
Key Facts about Samara
Population: 2,000
Time zone: -8h. (GMT -6)
Region: Guanacaste,
Currency: CRC (1 CRC = 0.0070 RON)
High season: January
Low season: June
Average course price per week (High season): 335 US$
Average course price per week (Low season): 305 US$
Cost of Living:
* 100 = prices in Bucharest
Student price index excluding rent:

98* (2% cheaper than Bucharest)

Student price index including rent:

82* (18% cheaper than Bucharest)
Price index food only:

89* (11% cheaper than Bucharest)

Big Mac price (Costa Rica average):

2,646.99 CRC (79% more expensive than in Romania)
Mains electricity:
Residential voltage:

120 V

Frequency:

60 Hz
Map with location of Spanish schools in Samara



Events in Samara
Best time to take a language course in Samara
Guanacaste Day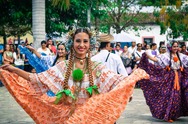 25 July 2022On this day, Costa Rica celebrates the annexation of the region of Guanacaste. It is a very happy day with parades and dancers on the streets, horse pageants and cattle shows. People re-unite with their family and friends for this celebration that can last an entire week!
Other destinations that were popular to combine with courses in Samara