Best language schools in Zurich (ranked based on student reviews)
You are interested in learning German in Zurich? We have researched all the details about the best German language schools in Zurich for you so that you can easily compare prices, reviews, courses for adults and teenagers and special offers.
Filter
Map
Didn't find what you are looking for?
Why Zurich? Zurich is Switzerland´s main commercial and cultural centre and is according to surveys considered to be the city with the best quality of life in the world. The citizens enjoy a high standard of living, and this is evident in the many fashionable and enjoyable bars, cafés and restaurants that fill the Old Town. Many financial institutions have their headquarters in Zurich, mainly due to Swiss bank secrecy. In summer, the view of the city is beautiful, with the lake reflecting the mountains and clear blue sky. The winter snowfalls bring a magic of their own.
Interested in online courses?
Which school to choose?
Get free advice from our language travel experts to help you find the best school for you.
Most recent student reviews of language schools in Zurich
Friendly people, interesting and funny lessons.

22 August 2012
Course: Standard 20 - 1 week
Student age: 20 years
Angelina
Rossiya
High level and few students in the class.

23 October 2009
Course: Standard 20 - 3 weeks
Student age: 22 years
Carolina
española
The information and service from the consultant and school are very good! When I had a question, they soon gave me all the information I was looking for. It was possible to switch to another level group. The teachers are very nice and they take time when you have a question. I was there for only one week but if I should have had more time I certainly would have taken more lessons. It was a very nice week!!!!!rnthanx!

23 May 2009
Course: Intensive 30 - 1 week
Student age: 36 years
Wendy
Nederlandse
Most popular German course types in Zurich
Key Facts about Zurich
In the latest 2019 Mercer the quality of life in Zurich was ranked 2 among 231 cities worldwide.
Population: 342,000
Time zone: GMT +1
Region: Zurich, Bezirk Zürich
Currency: CHF (1 CHF = 0.9177 EUR)
Name of city in German: Zürich
Zurich quality of life rating:

4.8 (13 reviews by our former students)
Cost of Living:
* 100 = prices in Paris
Student price index excluding rent:

150* (50% more expensive than Paris)

Student price index including rent:

145* (45% more expensive than Paris)
Price index food only:

174* (74% more expensive than Paris)

Big Mac price (Switzerland average):

5.88 CHF (43% more expensive than in France)
Mains electricity:
Residential voltage:

230 V

Frequency:

50 Hz
Map with location of German schools in Zurich



Weather in Zurich
Climate Table
Legend:
Midday Temperature
Night-time Temperature
63

mm
64

mm
79

mm
83

mm
123

mm
128

mm
124

mm
124

mm
99

mm
86

mm
79

mm
83

mm
What to do in Zurich
Grossmünster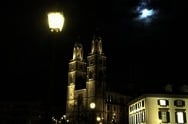 St. Peters Church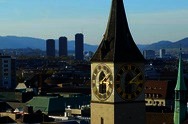 Zurich National Museum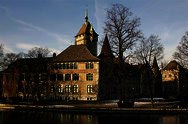 Bahnhofstrasse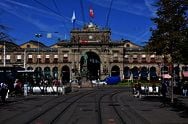 Old Town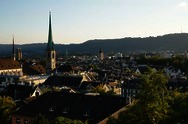 Zurich

Arrival Airport
Zurich (ZRH)
- 9 km. from Zurich city center
Public transportation to city center:
Every 10 minutes, 19,00 CHF, 10 minutes.
Main stops: Zurich Airport, Zurich central station
Taxi: 64 CHF, 15 minutes drive to city center of Zurich
Direct international flights from:
France: Bordeaux, Calvi, Lyon, Nice, Paris Charles de Gaulle
USA: Boston Logan International, Chicago O'Hare International, Las Vegas Mccarran, Los Angeles International, Miami International, New York John F. Kennedy, New York Newark, San Diego International, San Francisco International, Tampa International, Washington Dulles
Canada: Calgary, Montreal Pierre Elliott Trudeau, Toronto Pearson International, Vancouver International
South Africa: Cape Town, Johannesburg O.R. Tambo
Singapore: Singapore Changi