6 Best language schools in Uruguay (ranked based on student reviews)
Filter
Map
Most popular destinations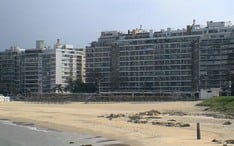 Map with location of Spanish schools in Uruguay



Spanish course types in Uruguay
Interested in online courses?
Interesting information about Uruguay
Uruguay is the smallest country in South America, yet it is home to one of the longest rivers in the world, the Rio de la Plata. The capital is Montevideo, but the most trendy city is, without any doubt, Punta del Este. It enjoys high season from December until March. In Uruguay, you will find white sandy beaches, amazing meat dishes and a large array of entertainment.
Key Facts about Uruguay
Population: 3,450,000
Capital: Montevideo
Time zone: GMT -3
Currency: UYU (1 UYU = 0.0258 USD)
Telephone country code: +598
Largest cities in Uruguay:
1. Montevideo: 1,300,000
2. Salto: 100,000
3. Paysandu: 75,000
4. Las Piedras: 70,000
5. Rivera: 65,000
Visa requirements data last updated on 01-12-2022
(
Source
)
Cost of Living:
Big Mac price (Uruguay average):

235.66 UYU

(18% more expensive than in USA)
Mains electricity:
Residential voltage:

230 V

Frequency:

50 Hz
Questions and answers about Punta del Este
Will the registration fees be paid multiple times for the same course if I want to extend it?

"

Regarding the registration fees, it is paid only once, and you do not have to pay it again if you extend the course.

"

from Academia Uruguay - Nov 23, 2022

FAQ about schools in Uruguay

What is the best language school for adults in Uruguay?

Which Spanish school in Uruguay has the best location?

Academia Uruguay, located in Juan Carlos Gómez 1459, corner of 25 de Mayo., Ciudad Vieja, Montevideo has been voted as the school with the best location in Uruguay.

How much is the cheapest Spanish course in Uruguay?

531US$ for 2 weeks is the lowest price for a Spanish course in Uruguay. The average cost of a language course in Uruguay is 218US$ per week.

Which schools in Uruguay offer the best excursions and afternoon activities?

Which Spanish school offers the best rated teaching in Uruguay?

I am interested in booking a Spanish programme for senior students. What is the average age of your students?

"

The average age of our students throughout the year is 35 years old and the minimum required age to study with us is 18 years old.

"

Federico Hoeser, Admissions Team from Academia Uruguay - Nov 11, 2022

I am looking for a Spanish Programme for my wife and our 12-year-old daughter. What options do you have?

In Uruguay, the minimum required age to book group lessons is 16 years old. For young learners, it's possible to organize private lessons, with a play-based approach.