5 Best language schools in Cordoba (ranked based on student reviews)
Filter
Map
How we create the points regarding what we like/dislike about a school
Map with location of Spanish schools in Cordoba



How our students rated their experience in Cordoba
Overall attractiveness of Cordoba
26 authentic ratings from students who reserved a course with us in Cordoba
What our students said about Cordoba
5.0
The school is in a very good location as there are many apartments to rent nearby.
Remo
Germany
Most recent student reviews of language schools in Cordoba
Spanish course types in Cordoba
Interested in online courses?
Interesting information about Cordoba
Why Cordoba? Córdoba, capital of Cordoba province, is located at the northern tip of a

...
triangle between Santiago, Chile and Buenos Aires. Called the Heartland of Argentina for its location in the geographical centre of the country, Córdoba has a strong colonial history blending with modern economic growth. Córdoba is the educational centre of Argentina – with seven universities, its large student population gives the city a vibrancy unlike any other.
Key Facts about Cordoba
Population: 1,429,000
Time zone: GMT -3
Region: Cordoba,
Currency: ARS
Name of city in Spanish: Córdoba
Visa requirements data last updated on 01-12-2022
.
High season: March
Low season: June
Average course price per week: 231 US$
Mains electricity:
Residential voltage:

220 V

Frequency:

50 Hz
Weather in Cordoba
Climate Table
Legend:
Midday Temperature
Night-time Temperature
120

mm
100

mm
110

mm
40

mm
20

mm
10

mm
10

mm
10

mm
30

mm
70

mm
100

mm
130

mm
What to do in Cordoba
San Martin Square
Manzana Jesuítica
Libertador San Martin Theatre
Cordoba

Arrival airport
Pajas Blancas (COR)
- 10 km. from Cordoba city center
Public transportation to city center:
Every 30 minutes, 40 minutes.
Main stops: Cordoba Airport, Castro Barros 558
Taxi: 15 minutes drive to city center of Cordoba
Public transportation in Cordoba
Other destinations that were popular to combine with courses in Cordoba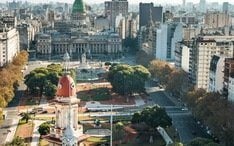 Buenos Aires
11 schools
Questions and answers about Cordoba
What types of courses are offered in Cordoba?

In Cordoba, it's possible to book Spanish lessons in group or private lessons. Spanish for Business, DELE exam preparation, and the combination of Spanish lessons with dance lessons are also an option.

FAQ about schools in Cordoba

What is the best language school for adults in Cordoba?

SET-IDIOMAS has received the best overall rating in Cordoba.

Which Spanish school in Cordoba has the best location?

COINED, located in San José de Calasanz 151, Cordoba has been voted as the school with the best location in Cordoba.

How much is the cheapest Spanish course in Cordoba?

436US$ for 2 weeks is the lowest price for a Spanish course in Cordoba. The average cost of a language course in Cordoba is 210US$ per week.

Which schools in Cordoba offer the best excursions and afternoon activities?

Students rated the activity program at COINED as the best.

Which Spanish school offers the best rated teaching in Cordoba?

Didn't find what you are looking for?