Best language schools in Medellin (ranked based on student reviews)
Filter
Map
Methodology of language school ranking
This ranking of language schools in Medellin is 100% transparent. It is
exclusively based on the objective criteria of authentic reviews of clients
who booked their language course at our site, and whose
attendance was verified
. The
primary ranking criteria is the average overall student satisfaction
rating (
detailed information about the methodology
).
Didn't find what you are looking for?
Why Medellin? Medellin, the second largest city in Colombia, is not overshadowed by

...
the country's capital! Here you will find an exuberant mix of mouth watering cuisine, a rhythmic nightlife and a coffee that will awaken the sleepiest. Medellin has the perfect climate and is often described as the City of Eternal Spring, expect blue skies and a pleasant cooling breeze. Throughout your stay you will be greeted with the famous friendliness that is present throughout the country. The culture here mixes a traditional latin feel with a cosmopolitan vibe, making this city extremely appealing for visitors. Grab your dancing shoes and experience this wonderful city!
Interested in online courses?
Most recent student reviews of language schools in Medellin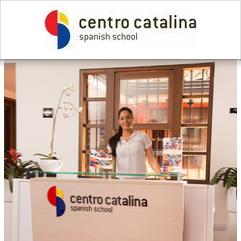 Centro Catalina
Small groups, intensive groups, individual design possible.

16 May 2022
Course: Intensive Course - 2 weeks
Student age: 57 years
Armin
Germany
Most popular Spanish course types in Medellin
Interesting information about Medellin
Key Facts about Medellin
Population: 2,000,000
Elevation: 1405 m. above sea level
Time zone: +5h. (GMT -5)
Region: Antioquia,
Currency: COP (1 COP = 0.0003 USD)
Name of city in Spanish: Medellín
Cost of Living:
* 100 = prices in New York
Student price index excluding rent:

36* (64% cheaper than New York)

Student price index including rent:

24* (76% cheaper than New York)
Price index food only:

31* (69% cheaper than New York)

Big Mac price (Colombia average):

14,674.02 COP (36% cheaper than in USA)
Mains electricity:
Residential voltage:

110 V

Frequency:

60 Hz
Map with location of Spanish schools in Medellin