Best language schools in Port Elizabeth (ranked based on student reviews)
Filter
Map
Methodology of language school ranking
This ranking of language schools in Port Elizabeth is 100% transparent. It is
exclusively based on the objective criteria of authentic reviews of clients
who booked their language course at our site, and whose
attendance was verified
. The
primary ranking criteria is the average overall student satisfaction
rating (
detailed information about the methodology
).
Didn't find what you are looking for?
Why Port Elizabeth? Port Elizabeth is situated in the Eastern Cape Province, 770 km

...
east of Cape Town. Boat tours spot whales and rare seabirds while wildlife reserves outside the city are home to elephants, rhinos and other big game. The area also offers many good bathing beaches, great surf spots and excellent water sports.
Interested in online courses?
Most recent student reviews of language schools in Port Elizabeth
Bay Language Institute
Personal welcoming on the first day. The casual atmosphere while learning was a lot of fun. Super teacher (Matthew) who was engaged with joy and enthusiasm and explained using his whole body. His enthusiasm was inspiring. Just great.
Amazing team - congratulations. Everything worked out fine. Teaching, organization, friendliness.

26 December 2016
Course: General English Plus - 2 weeks
Student age: 39 years
Stefanie
Germany
Most popular English course types in Port Elizabeth
Interesting information about Port Elizabeth
Key Facts about Port Elizabeth
Population: 968,000
Time zone: +12h. (GMT +2)
Region: Eastern Cape, Nelson Mandela Bay Metropolitan Municipality
Currency: ZAR (1 ZAR = 0.0657 USD)
Port Elizabeth quality of life rating:

4.4 (5 reviews by our former students)
High season: November
Low season: February
Average course price per week: 200 €
Cost of Living:
* 100 = prices in New York
Student price index excluding rent:

49* (51% cheaper than New York)

Student price index including rent:

32* (68% cheaper than New York)
Price index food only:

41* (59% cheaper than New York)

Big Mac price (South Africa average):

33.33 ZAR (62% cheaper than in USA)
Mains electricity:
Residential voltage:

230 V

Frequency:

50 Hz
Map with location of English schools in Port Elizabeth



Public transportation in Port Elizabeth
Weather in Port Elizabeth
Climate Table
Legend:
Midday Temperature
Night-time Temperature
8.6
7.9
7.4
7.4
7.2
6.9
7.4
7.5
7.1
8.3
8.3
9
71.6 °F
71.6 °F
71.6 °F
68 °F
66.2 °F
66.2 °F
64.4 °F
64.4 °F
64.4 °F
66.2 °F
68 °F
69.8 °F
30

mm
30

mm
50

mm
40

mm
60

mm
50

mm
50

mm
50

mm
60

mm
50

mm
50

mm
40

mm
What to do in Port Elizabeth
South End Museum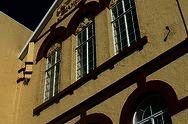 Port Elizabeth

Arrival Airport
Port Elizabeth (PLZ)
- 8 km. from Port Elizabeth city center
Public transportation to city center:
Taxi: 8 AU$, 5 minutes drive to city center of Port Elizabeth
Other destinations that were popular to combine with courses in Port Elizabeth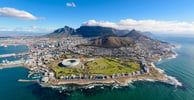 Cape Town
13 schools
Ask a question