Riga language school ranking based on student ratings - 3 schools
Filter
Map
Interested in online courses?
Riga ratings & opinions
How our students rated their experience in Riga
Overall attractiveness of Riga
25 authentic ratings from students who reserved a course with us in Riga
What our students said about Riga
5.0
As a metropolis in the Baltics, Riga is of course more expensive than the surrounding area, but it has a lot to offer.
Lothar
Germany
5.0
Riga is a great town for studying or touristic activities!
Eva
Germany
What school directors said about Riga

Latvia is a beautiful and safe destination in the EU to learn Russian.
Information about Riga
Why Riga? Riga, is the capital of Latvia and the biggest metropolis in the Baltics and perfectly blends timeless tradition with cutting edge cool. Stop by and get energized by a city with surprises on every road and rooftop. In its 800 years troubled history, everyone from German knights to Swedish kings and Soviet commissars have left their mark, and today it is an exciting European metropolis at the crossroads of eastern and northern Europe. Come and explore its hip bars, modern art centres and the kitchens of its cool experimental restaurants.
Key Facts about Riga
Population: 743,000
Time zone: +12h. (GMT +2)
Region: Rīga,
Currency: EUR (1 EUR = 1.0984 USD)
Name of city in Russian: Рига
Visa requirements data last updated on 01 Dec. 2022
(
Source
)
High season: July
Low season: December
Average course price per week: 392 €
Cost of Living:
* 100 = prices in New York
Price index excluding rent:

46* (54% cheaper than New York)

Price index including rent:

37* (63% cheaper than New York)
Price index food only:

40* (60% cheaper than New York)
Mains electricity:
Residential voltage:

230 V

Frequency:

50 Hz
Weather in Riga
Climate Table
Legend:
Midday Temperature
Night-time Temperature
1
2.2
4.1
6.1
8.5
9.6
8.5
7.4
5.1
3
1.3
0.8
32 °F
32 °F
32 °F
32 °F
32 °F
32 °F
32 °F
32 °F
32 °F
32 °F
32 °F
32 °F
30

mm
20

mm
20

mm
30

mm
40

mm
50

mm
70

mm
60

mm
60

mm
50

mm
50

mm
30

mm
What to do in Riga
Riga Cathedral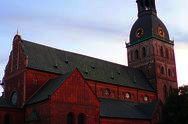 Blackheads House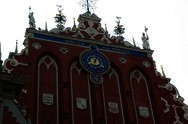 Freedom Monument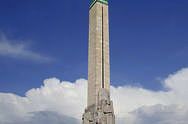 Three Brothers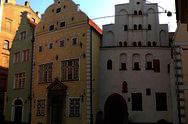 Riga Central Market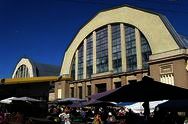 Pilsetas Kanals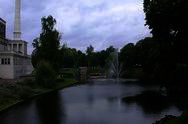 Riga

Arrival airport
Riga International (RIX)
- 8 km. from Riga city center
Public transportation to city center:
Every 30 minutes, 20 minutes.
Main stops: Lidosta Riga, Priezkalni, Rudas, Zolitudes iela, Upesgrivas iela, Kauguru iela, Dreillinu iela, Melnsila iela, Slokas iela, Daugavgrivas iela, Uzvaras bulvaris
Taxi: 16 minutes drive to city center of Riga
Q&A - Questions and answers about Riga
What are the requirements for joining a Russian course?

"

In order to join the Russian lessons, students should be familiar with the Cyrillic alphabet.


"

Ana Carolina Dos Santos, LanguageCourse.Net - Nov 21, 2022

FAQ about courses in Riga

What is the best language school for adults in Riga?

Which Russian school in Riga has the best location?

Which Russian school offers the best rated teaching in Riga?

Which school offers the best accommodation in Riga?

What are the costs of living in Riga?

Didn't find what you are looking for?

Interested in language travel to other cities? Have a look at Russian language schools in other cities in Latvia such as or see our list of all schools in Latvia. You may also want to consult options outside Latvia for learning Russian.