Best language schools in Salvador (ranked based on student reviews)
Filter
Map
Methodology of language school ranking
This ranking of language schools in Salvador is 100% transparent. It is
exclusively based on the objective criteria of authentic reviews of clients
who booked their language course at our site, and whose
attendance was verified
. The
primary ranking criteria is the average overall student satisfaction
rating (
detailed information about the methodology
).
Didn't find what you are looking for?
Why Salvador? The city has an energy and unadorned beauty that very few cities can

...
match. Its colourful centre is a living museum of 17th- and 18th-century architecture and gold-laden churches and the Pelourinho neighbourhood is a historic heart, with cobblestone alleys, large squares, colourful buildings and brilliant baroque churches. Wild festivals happen almost on the daily, with drum corps pounding out rhythms that are impossible not to move to. Elsewhere in town, a different spirit flows, there's nowhere else in the world where the culture of those brought as slaves from Africa has been preserved so well as it has been here– from music and religion to food, dance and martial-arts traditions. And to top all of this, a gorgeous coastline lies right outside the city. Come and see its magnificence for yourself.
Interested in online courses?
Most popular Portuguese course types in Salvador
Interesting information about Salvador
Key Facts about Salvador
Population: 2,712,000
Time zone: +7h. (GMT -3)
Region: Bahia, Salvador
Currency: BRL (1 BRL = 0.1825 USD)
Salvador quality of life rating:

4.5 (2 reviews by our former students)
universities: 4 (rankings of universities in Salvador)
High season: September
Low season: January
Average course price per week (High season): 1,250 €
Average course price per week (Low season): 294 US$
Cost of Living:
* 100 = prices in New York
Student price index excluding rent:

50* (50% cheaper than New York)

Student price index including rent:

33* (67% cheaper than New York)
Price index food only:

41* (59% cheaper than New York)

Big Mac price (Brazil average):

25.21 BRL (20% cheaper than in USA)
Mains electricity:
Residential voltage:

127 V / 220 V

Frequency:

60 Hz
Map with location of Portuguese schools in Salvador



Weather in Salvador
Climate Table
Legend:
Midday Temperature
Night-time Temperature
80.6 °F
80.6 °F
80.6 °F
80.6 °F
80.6 °F
78.8 °F
75.2 °F
75.2 °F
75.2 °F
77 °F
78.8 °F
78.8 °F
88

mm
125

mm
160

mm
312

mm
313

mm
233

mm
205

mm
129

mm
94

mm
108

mm
125

mm
110

mm
Arrival Airport
Salvador International , Deputado Luís Eduardo Magalhães (SSA)
- 20 km. from Salvador city center
Public transportation to city center:
Every 30 minutes, 25,00 BRL, 80 minutes.
Main stops: Salvador Airport, Praca da Sé
Taxi: 57 BRL, 25 minutes drive to city center of Salvador
Other destinations that were popular to combine with courses in Salvador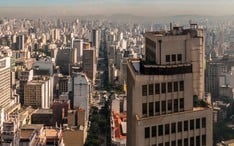 Sao Paulo
2 schools
Ask a question