Filter
Map
Methodology of language school ranking
This ranking of language schools in Busan is 100% transparent. It is
exclusively based on the objective criteria of authentic reviews of clients
who booked their language course at our site, and whose
attendance was verified
. The
primary ranking criteria is the average overall student satisfaction
rating (
detailed information about the methodology
).
Didn't find what you are looking for?
Interested in language travel to other cities? Have a look at Korean language schools in other cities in South Korea such as Seoul or see our list of all schools in South Korea.
You may also want to consult options outside South Korea for learning Korean.
Why Busan? Busan is South Korea's second-largest city and is a lively port town with

...
tonnes to offer. Home to majestic mountains, exotic beaches, quaint temples, steaming hot springs, and fantastic seafood it certainly has something for all tastes. Rugged mountain ranges are a natural wonder that slice through the urban landscape and between them you can find the world's largest department store, the Shinsegae Centum City.
Interested in online courses?
Most recent student reviews of language schools in Busan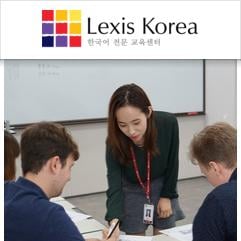 Lexis Korea
Meeting so many new people, learning Korean in small groups of people, very nice teachers and receptionists.

3 March 2020
Course: Intensive Korean (Full-time) - 4 weeks
Student age: 18 years
Nel
Germany
What school directors said about Busan

With its laid-back vibe, Busan is surrounded with natural landscapes and stunning beaches, complete with lively food scene & delicious, fresh seafood.
JeeHo Kim
Director of Lexis Korea, lives in Busan since 1996
Most popular Korean course types in Busan
Interesting information about Busan
Key Facts about Busan
Mercer placed Busan in position 94 in their latest ranking of quality of life.
Population: 3,679,000
Time zone: +7h. (GMT +9)
Region: Busan,
Currency: KRW (1 KRW = 0.0007 EUR)
Name of city in Korean: 부산
Busan quality of life rating:

5.0 (1 reviews by our former students)
Cost of Living:
* 100 = prices in Athens
Student price index excluding rent:

135* (35% more expensive than Athens)

Student price index including rent:

106* (6% more expensive than Athens)
Price index food only:

177* (77% more expensive than Athens)

Big Mac price (South Korea average):

4,563.60 KRW (17% cheaper than in Greece)
Mains electricity:
Residential voltage:

220 V

Frequency:

60 Hz
Map with location of Korean schools in Busan



Other destinations that were popular to combine with courses in Busan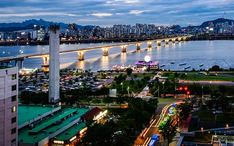 Seoul
5 schools
Ask a question