Best language schools in Marrakesh (ranked based on student reviews)
Filter
Map
Methodology of language school ranking
This ranking of language schools in Marrakesh is 100% transparent. It is
exclusively based on the objective criteria of authentic reviews of clients
who booked their language course at our site, and whose
attendance was verified
. The
primary ranking criteria is the average overall student satisfaction
rating (
detailed information about the methodology
).
Didn't find what you are looking for?
Interested in language travel to other cities? Have a look at Arabic language schools in other cities in Morocco such as Rabat, Tetouan or see our list of all schools in Morocco.
You may also want to consult options outside Morocco for learning Arabic.
Why Marrakesh? Marrakech is as hip as Hollywood and as manic as Mardi Gras. It has

...
been described as a dreamy maze of spice-scented streets filled with cafes and hidden palaces. The vibrant markets or 'Souks' sell a wide array of artesanal products including spices, dyes, jewellery, rugs, clothes, tagines and more. When you have had enough of the commotion, trek through the dunes of Erg Chebbi Desert on a camel through the Sahara and enjoy a view of the night sky like you've never experienced before.
Interested in online courses?
Most popular Arabic course types in Marrakesh
Interesting information about Marrakesh
Key Facts about Marrakesh
Population: 840,000
Time zone: +10h. (GMT +0)
Region: Marrakech-Tensift-Al Haouz, Marrakech
Currency: MAD (1 MAD = 0.1007 USD)
Name of city in Arabic: مراكش
Mains electricity:
Residential voltage:

127 V / 220 V

Frequency:

50 Hz
Map with location of Arabic schools in Marrakesh



Other destinations that were popular to combine with courses in Marrakesh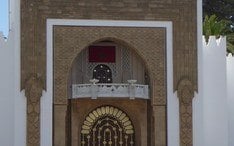 Tetouan
1 school