Tetouan Language School Ranking based on student ratings - 1 school
Filter
Map
Interested in online courses?
Tetouan ratings & opinions
How our students rated their experience in Tetouan
Overall attractiveness of Tetouan
41 authentic ratings from students who reserved a course with us in Tetouan
What our students said about Tetouan
5.0
Tetuan is very beautiful. Here is the sea, mountains and palm trees. The stunning beaches of Martil and Mdik are very close. People are friendly, always helpful. I would definitely recommend it!!
elizaveta
Russia
5.0
It is pleasant to live in Tetouan as the city is not too big. The locals are very open-minded and nice.
Geesche
Germany
5.0
I love it for its tranquility and for being safe from mass tourism.
Albert
Spain
5.0
Unique Moroccan city, influenced by different cultures
Jingjie
China
5.0
It's one of the safest places I've ever visited.
Emre

What school directors said about Tetouan

Tetouan's rich diversity allows students to enjoy the city's excellent Mediterranean beaches, its evergreen Rif Mountains and its five-century-old Medina. The low cost of life in Tetouan present students with an unforgettable experience in an exotic location for less than they would pay for many other locations. The small size of the city is another incentive that attracts students, in that it helps them quickly and easily become integrated and immersed into the community and the culture of Tetouan.
Information about Tetouan
Why Tetouan? Tetouan is in a striking location at the foot of the Rif Mountains and only a few kilometres from the sea. Not seeing many visitors at all, there's an air of authenticity here that adds great value to a visit. The ancient medina looks like it hasn't changed in centuries and is a Unesco World Heritage site. Due to the towns long relationship with Andalusia in the past, it has been left with a Hispano-Moorish character that is unique in Morocco and can be seen in the white buildings and broad boulevards of the Spanish part of the city.
Key Facts about Tetouan
Population: 327,000
Time zone: +10h. (GMT +0)
Currency: MAD (1 MAD = 0.0984 USD)
Name of city in Arabic: تطوان
Visa requirements data last updated on 01 Dec. 2022
(
Source
)
High season: August
Low season: June
Average course price per week: 102 €
Mains electricity:
Residential voltage:

127 V / 220 V

Frequency:

50 Hz
Weather in Tetouan
Climate Table
Legend:
Midday Temperature
Night-time Temperature
32 °F
32 °F
32 °F
32 °F
32 °F
32 °F
32 °F
32 °F
32 °F
32 °F
32 °F
32 °F
110

mm
100

mm
120

mm
80

mm
40

mm
10

mm
0

mm
0

mm
20

mm
90

mm
140

mm
130

mm
Public transportation in Tetouan
Other destinations that were popular to combine with courses in Tetouan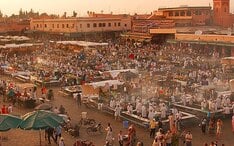 Marrakesh
1 school
Didn't find what you are looking for?
Interested in language travel to other cities? Have a look at Arabic language schools in other cities in Morocco such as Marrakesh, Rabat or see our list of all schools in Morocco.
You may also want to consult options outside Morocco for learning Arabic.