Tunis Language School Ranking based on student ratings - 1 school
Filter
Map
Interested in online courses?
Tunis ratings & opinions
How our students rated their experience in Tunis
Overall attractiveness of Tunis
5 authentic ratings from students who reserved a course with us in Tunis
Most recent student reviews of language schools in Tunis
Very good school with good management and teachers.

4 April 2022
Course: General Course - 2 weeks
Student age: 42 years
Information about Tunis
Why Tunis? The capital city of Tunisia has an endless variety on offer for those who visit. Tunis has an eclectic mix of culture in line with the different influences throughout history, and seamlessly blends old with new. A favourite pastime for many is to wander the alleys of Medina, where you can experience the market way of life. The culinary treats available in this city are hard to top and you can amuse your taste buds with a huge selection of cultural cuisines. Tunis has an International airport close to the main perimeter, making it easy to travel to and from the city.
Key Facts about Tunis
Population: 694,000
Time zone: -8h. (GMT +1)
Region: Tūnis,
Currency: TND (1 TND = 424.5123 KRW)
Name of city in Arabic: تونس
Visa requirements data last updated on 01 Dec. 2022
(
Source
)
Cost of Living:
* 100 = prices in Seoul
Price index excluding rent:

39* (61% cheaper than Seoul)

Price index including rent:

30* (70% cheaper than Seoul)
Price index food only:

27* (73% cheaper than Seoul)
Mains electricity:
Residential voltage:

230 V

Frequency:

50 Hz
Other destinations that were popular to combine with courses in Tunis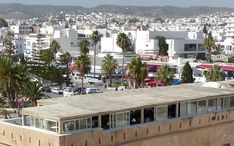 Hammamet
2 schools
Didn't find what you are looking for?
Interested in language travel to other cities? Have a look at Arabic language schools in other cities in Tunisia such as Hammamet, Sfax or see our list of all schools in Tunisia.
You may also want to consult options outside Tunisia for learning Arabic.