Chania Crete Language School Ranking based on student ratings - 1 school
Filter
Map
Interested in online courses?
Chania (Crete) ratings & opinions
How our students rated their experience in Chania (Crete)
Overall attractiveness of Chania (Crete)
57 authentic ratings from students who reserved a course with us in Chania (Crete)
What our students said about Chania (Crete)
4.0
Feel unable to comment on nightlife, had visited the town before and enjoyed returning although both shops and restaurant owners fail to understand that pestering counter-productive
Ann
England UK
3.0
Chania has culture, history and modern shops. The port, tavernas with great food, beaches in the middle of the city. You can find everything here!
Marita
Sweden
5.0
Excellent! Ideal for a holiday. There's a lot to do in the local area and the food is great.
Rebecca
England UK
5.0
A beach town, on a human scale, lively despite the end of the season, peaceful.
ROUTE
France
3.0
Very nice, clear, excursions easily feasible with public transport
Manuela
Switzerland
5.0
It is a very pleasant, very beautiful city where life is good.
Genevieve
France
5.0
For its size, Chania simply offers everything.
Uwe
Germany
Information about Chania (Crete)
Why Chania (Crete)? Chania is a city on the northwest coast of Crete, an island of Greece. It's known for its Venetian harbor, old-port, narrow shopping streets and waterfront restaurants. At the harbor youll find a 16th-century lighthouse with Venetian, Egyptian and Ottoman influences. The atmosphere has a touch of Florence and Venice and the town offers many old buildings, museums, churches and crafts shops. Many of the old buidling have been destroyed by the ravages of war and plunder, but there are still plenty of oppertunities for sightseeing, exploration and discovery.
Key Facts about Chania (Crete)
Population: 54,000
Time zone: +12h. (GMT +2)
Region: Crete, Nomós Chaniás
Currency: EUR (1 EUR = 1.0726 USD)
Name of city in Greek: Χανιά (Κρήτη)
Visa requirements data last updated on 01 Dec. 2022
(
Source
)
High season: August
Low season: February
Average course price per week: 340 €
Cost of Living:
Big Mac price (Greece average):

4.45 €

(7% cheaper than in USA)
Mains electricity:
Residential voltage:

230 V

Frequency:

50 Hz
Weather in Chania (Crete)
Climate Table
Legend:
Midday Temperature
Night-time Temperature
32 °F
32 °F
32 °F
32 °F
32 °F
32 °F
32 °F
32 °F
32 °F
32 °F
32 °F
32 °F
142

mm
112

mm
81

mm
32

mm
13

mm
5

mm
1

mm
2

mm
19

mm
80

mm
73

mm
94

mm
What to do in Chania (Crete)
Samaria gorge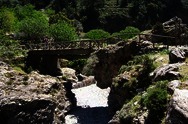 Arrival airport
Chania International (CHQ)
- 11 km. from Chania (Crete) city center
Public transportation to city center:
Taxi: 15 minutes drive to city center of Chania (Crete)
Public transportation in Chania (Crete)
Other destinations that were popular to combine with courses in Chania (Crete)
Didn't find what you are looking for?
Interested in language travel to other cities? Have a look at Greek language schools in other cities in Greece such as Athens, Chios , Corfu, Paros

...