Filter
Map
Methodology of language school ranking
This ranking of language schools in Chania (Crete) is 100% transparent. It is
exclusively based on the objective criteria of authentic reviews of clients
who booked their language course at our site, and whose
attendance was verified
. The
primary ranking criteria is the average overall student satisfaction
rating (
detailed information about the methodology
).
Didn't find what you are looking for?
Why Chania (Crete)? Chania is a city on the northwest coast of Crete, an island of

...
Greece. It's known for its Venetian harbor, old-port, narrow shopping streets and waterfront restaurants. At the harbor youll find a 16th-century lighthouse with Venetian, Egyptian and Ottoman influences. The atmosphere has a touch of Florence and Venice and the town offers many old buildings, museums, churches and crafts shops. Many of the old buidling have been destroyed by the ravages of war and plunder, but there are still plenty of oppertunities for sightseeing, exploration and discovery.
Interested in online courses?
What our students said about Chania (Crete)
3.0
Very nice, clear, excursions easily feasible with public transport
Manuela
Switzerland
5.0
It is a very pleasant, very beautiful city where life is good.
Genevieve
France
How our students rated their experience in Chania (Crete)
Overall city attractiveness
46 authentic reviews from students who reserved with us
Most recent student reviews of language schools in Chania (Crete)
Most popular Greek course types in Chania (Crete)
Interesting information about Chania (Crete)
Key Facts about Chania (Crete)
Population: 55,000
Time zone: +12h. (GMT +2)
Region: Crete, Nomós Chaniás
Currency: EUR (1 EUR = 1.0674 USD)
Name of city in Greek: Χανιά (Κρήτη)
High season: September
Low season: February
Average course price per week (High season): 263 €
Average course price per week (Low season): 324 €
Cost of Living:
Big Mac price (Greece average):

4.28 € (20% cheaper than in USA)
Mains electricity:
Residential voltage:

230 V

Frequency:

50 Hz
Map with location of Greek schools in Chania (Crete)



Public transportation in Chania (Crete)
Weather in Chania (Crete)
Climate Table
Legend:
Midday Temperature
Night-time Temperature
32 °F
32 °F
32 °F
32 °F
32 °F
32 °F
32 °F
32 °F
32 °F
32 °F
32 °F
32 °F
142

mm
112

mm
81

mm
32

mm
13

mm
5

mm
1

mm
2

mm
19

mm
80

mm
73

mm
94

mm
What to do in Chania (Crete)
Samaria gorge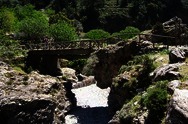 Arrival Airport
Chania International (CHQ)
- 11 km. from Chania (Crete) city center
Public transportation to city center:
Taxi: 25 €, 15 minutes drive to city center of Chania (Crete)
Direct international flights from:
Ireland: Dublin
United Kingdom: London Gatwick, London Stansted, Manchester