Filter
Map
1 language school in Athens, from for a 2 week French course.
General French Course
Athens ratings & opinions
How our students rated their experience in Athens
Overall attractiveness of Athens
77 authentic ratings from students who reserved a course with us in Athens
What our students said about Athens
5.0
I think Athens is a great city to visit. It has a lively and exciting vibe. It is a great city to explore on foot especially in the old districts around the acropolis. There are many different, contrasting areas of the city to visit. Exarchia is lovely to explore in the day or in the evening and to sit out at a bar or cafe under trees. It's wonderful that Athens remains low rise and you can see the acropolis from all areas of the city. The sky remains open. There are not many parks and green spaces around the centre of the city but it's lovely to walk up Lycabettus Hill to enjoy the views or wander around the National Gardens. We enjoyed a lovely tram ride down to the seaside around Kalamaki beach which was beautiful. The water is still crystal clear and there are many lovely bars and restaurants along the coast.
Bernadette
Ireland
5.0
It is a city that, by itself, is already interesting to discover. I consider that historically, together with Italy, it has a timeless importance. I consider that, regardless of their geography, the historical sites where great thinkers of humanity have been teaching and living that we still continue reading and apprehending today, is more than enough, at least for me.
Maria Elena
Argentina
5.0
I already know the city a bit through my daughter who now lives there. My husband is Greek and therefore known through various trips and events, so I have a slightly different positive connection with the city.
Kirstin
Germany
5.0
Athens is a city with many districts of its own, plenty of nightlife, terraces and restaurants. Also for the culture lover there are enough museums and antiquities to visit.
Plonia
Netherlands
5.0
I love Athens for it's diversity - a bit of everything, all close and mixed, all co-existing. A real city, with proud history, incredible beauty and modern challenges.
Heidi
Norway
4.0
It is a very lively city, a bit chaotic and a lot of traffic, but with very interesting things. The food is great and the people are generally friendly.
Alegría
Spain
5.0
Athens is in a way a juggernaut. You just have to get into the rhythm of the city, swing with it and pick out the points of interest for yourself.
Oliver
Germany
3.0
You really need to have archaeological interests. Other nice neighbourhoods and hotspots in the area: Piraeus, Sounio, Egina...
Mathieu
Belgium
5.0
Athens is a great city. But a lot of refuges and in the evening , if you travel alone, it is uncomfortable to go outside.
Natalia
Russia
5.0
Do not stop after the first impression because the city has such a great deal to offer and not only the antiquities.
Giacomo
Italy
5.0
I moved because of the view and could find better at just a little more
Jacques
France
5.0
It is a wonderful city that is worth returning to whenever possible.
María Candela
Argentina
5.0
The city is absolutely exceptional. The city center is marvellous.
Emmanuel
Belgium
5.0
Nice city; sometimes a bit busy and then not Corona-proof.
Mathieu
Belgium
5.0
Nice and exciting city...even in January.
Dagrun
Spain
5.0
I am happy to come back to Athens anytime
Katharina
Switzerland
What school directors said about Athens

Full of history in every corner, full of life all year long, closeby to the beach for the summer, closeby to winter destination for the winter! Here is the heart of ancient and modern Greece!
Interested in online courses?
Other destinations that were popular to combine with courses in Athens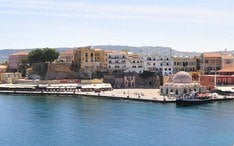 Chania (Crete)
1 school
Corfu
1 school
Learning French in a country where it is spoken is the best way to improve your French. Here are our most popular language travel destinations for French courses:
TOP countries for learning French