Filter
Map
Methodology of language school ranking
This ranking of language schools in Mainz is 100% transparent. It is
exclusively based on the objective criteria of authentic reviews of clients
who booked their language course at our site, and whose
attendance was verified
. The
primary ranking criteria is the average overall student satisfaction
rating (
detailed information about the methodology
).
Didn't find what you are looking for?
Interested in language travel to other cities? Have a look at German language schools in other cities in Germany such as Augsburg, Berlin, Bonn, Brunswick, Cologne

...
, Dresden, Frankfurt, Freiburg, Greifswald, Hamburg, Hannover, Heidelberg, Hohensolms, Horb am Neckar, Landshut, Lindau, Lübbecke, Munich, Nuremberg, Radolfzell, Regensburg, Rheinfelden, Schwerin, Stuttgart, Wiesbaden or see our list of all schools in Germany.
You may also want to consult options outside Germany for learning German.
Why Mainz? Mainz is a German city on the confluence of The Rhine and Main River which

...
made it ideal for trade back in the day. It's known for its lovingly restored old town which is brimming with authentic atmosphere, half-timbered houses and medieval market squares. In the magnificent 1000 year-old Mainz Dom cathedral is an architectural wonder and displays Gothic, Romanesque, and Baroque features. Mainz is the both the wine and one of the carnival capitals of Germany so there is always an upbeat atmosphere to enjoy. The Gutenberg Museum honours the inventor of the printing press with the copy of his original bibles.
Interested in online courses?
How our students rated their experience in Mainz
Overall city attractiveness
4 authentic reviews from students who reserved with us
Most recent student reviews of language schools in Mainz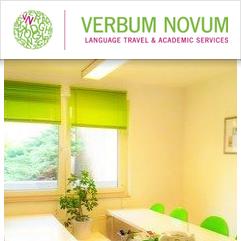 Verbum Novum GmbH
Good teaching method
It was difficult to find the right class level

1 July 2019
Course: Standard Course + Conversation - 4 weeks
Student age: 18 years
Jeanne
Switzerland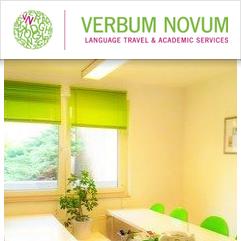 Verbum Novum GmbH
I most liked the teachers and the course books
Very good for german course

10 September 2018
Course: Standard Course + Conversation - 2 weeks
Student age: 17 years
Ignatescu
Romania
What school directors said about Mainz
Mainz is center of Rhein-Main Region between Frankfurt, Wiesbaden. Mainz is one of the german cities, where you can experience Carneval.
Most popular German course types in Mainz
Interesting information about Mainz
Key Facts about Mainz
Population: 185,000
Time zone: +11h. (GMT +1)
Region: Rheinland-Pfalz,
Currency: EUR (1 EUR = 1.0714 USD)
High season: July
Low season: December
Average course price per week (High season): 254 €
Average course price per week (Low season): 124 €
Cost of Living:
* 100 = prices in New York
Student price index excluding rent:

67* (33% cheaper than New York)

Student price index including rent:

94* (6% cheaper than New York)
Price index food only:

51* (49% cheaper than New York)

Big Mac price (Germany average):

4.27 € (20% cheaper than in USA)
Mains electricity:
Residential voltage:

230 V

Frequency:

50 Hz
Map with location of German schools in Mainz



Weather in Mainz
Climate Table
Legend:
Midday Temperature
Night-time Temperature
32 °F
32 °F
32 °F
32 °F
32 °F
32 °F
32 °F
32 °F
32 °F
32 °F
32 °F
32 °F
36

mm
29

mm
29

mm
30

mm
42

mm
52

mm
49

mm
61

mm
44

mm
41

mm
46

mm
47

mm
What to do in Mainz
ST. Martin's Cathedral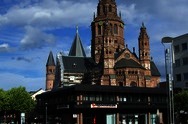 Arrival Airport
Frankfurt (FRA)
- 20 km. from Mainz city center
Public transportation to city center:
Every 60 minutes, 12,00 €, 30 minutes.
Main stops: Frankfurt Hbf, Mainz-Kastel
Taxi: 70 €, 20 minutes drive to city center of Mainz
Direct international flights from:
USA: Anchorage International, Atlanta Hartsfield-Jackson, Austin-Bergstrom, Baltimore Washington International, Boston Logan International, Charlotte Douglas, Chicago O'Hare International, Dallas Fort Worth International, Denver International, Detroit Wayne County, Houston George Bush Intercntl., Las Vegas Mccarran, Miami International, Minneapolis St Paul, New Orleans Louis Armstrong, New York John F. Kennedy, New York Newark, Orlando International, Philadelphia International, Portland, Providence, San Diego International, San Francisco International, San Jose International, Seattle / Tacoma International, Tampa International, Washington Dulles
Canada: Calgary, Halifax International, Montreal Pierre Elliott Trudeau, Ottawa International, Toronto Pearson International, Vancouver International, Whitehorse
Singapore: Singapore Changi
Other destinations that were popular to combine with courses in Mainz