Filter
Map
Methodology of language school ranking
This ranking of language schools in Dresden is 100% transparent. It is
exclusively based on the objective criteria of authentic reviews of clients
who booked their language course at our site, and whose
attendance was verified
. The
primary ranking criteria is the average overall student satisfaction
rating (
detailed information about the methodology
).
Didn't find what you are looking for?
Interested in language travel to other cities? Have a look at German language schools in other cities in Germany such as Augsburg, Berlin, Bonn, Brunswick, Cologne

...
, Frankfurt, Freiburg, Greifswald, Hamburg, Hannover, Heidelberg, Hohensolms, Horb am Neckar, Landshut, Lindau, Lübbecke, Mainz, Munich, Nuremberg, Radolfzell, Regensburg, Rheinfelden, Schwerin, Stuttgart, Wiesbaden or see our list of all schools in Germany.
You may also want to consult options outside Germany for learning German.
Why Dresden? Dresden is situated in the south-eastern part of the Free State of Saxony

...
and lies in a marked widening of the Elbe valley. It has a diverse festival culture that includes baroque celebrations dating back more than 400 years. Dresden is also home to the "Striezelmarkt", the oldest German Christmas market (founded in 1434). The abundance of woods and green spaces, such as the Grosser Garten, make Dresden one of the greenest cities in Europe.
Interested in online courses?
What our students said about Dresden
5.0
Unfortunately, several of the major museums were closed for restoration.
Cliff

4.0
Impressive cultural wealth. A real discovery! I loved my stay.
Kahina
Germany
5.0
I think very highly of Dresden, it is a very beautiful city.
Juliette
Switzerland
Most recent student reviews of language schools in Dresden
What school directors said about Dresden

Dresden is the capital of the state Saxony, known for its historical architecture, high tech industry, diverse universities and beautiful nature.
Most popular German course types in Dresden
Interesting information about Dresden
Key Facts about Dresden
Population: 487,000
Time zone: +11h. (GMT +1)
Region: Saxony,
Currency: EUR (1 EUR = 1.1336 USD)
Dresden quality of life rating:

4.8 (63 reviews by our former students)
Cost of Living:
* 100 = prices in New York
Student price index excluding rent:

71* (29% cheaper than New York)

Student price index including rent:

48* (52% cheaper than New York)
Price index food only:

55* (45% cheaper than New York)

Big Mac price (Germany average):

4.03 € (20% cheaper than in USA)
Mains electricity:
Residential voltage:

230 V

Frequency:

50 Hz
Map with location of German schools in Dresden



Weather in Dresden
Climate Table
Legend:
Midday Temperature
Night-time Temperature
32 °F
32 °F
32 °F
32 °F
32 °F
32 °F
32 °F
32 °F
32 °F
32 °F
32 °F
32 °F
30

mm
20

mm
30

mm
50

mm
50

mm
70

mm
150

mm
60

mm
40

mm
40

mm
30

mm
40

mm
Events in Dresden
Best time to take a language course in Dresden
International Dixieland Festival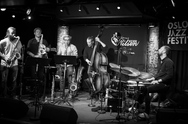 May 2022Dresden's International Dixieland Festival was the first of its kind in Germany, is the oldest in Europe and one of the biggest musical events in the world. It starts with a festival for families and children at the zoo.
Colorful Republic Neustadt (BRN)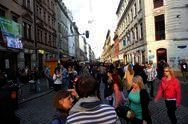 June 2022A three-day cultural festival in the streets of Dresden. Music, shows, colourful people, and drinks and food for all.
Movie Nights at the River Elbe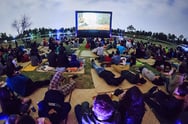 June 2022 - August 2022Filmnächte am Elbufer is a yearly festival of open air film projections that takes place on the banks of the Elbe river and is the biggest festival of its kind in Germany. Alongside the films there is also a program of concerts by musicians from around the world.
Striezelmarkt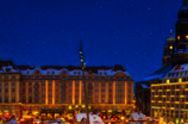 December 2022One of Germany's oldest Christmas markets. The Striezelmarkt offers up typical foods, drinks and gift ideas.
What to do in Dresden
Semperoper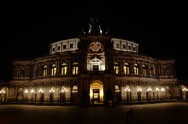 Zwinger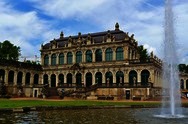 Pfunds Molkerei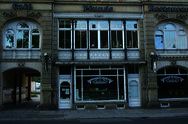 Royal Palace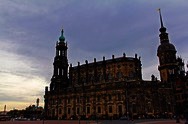 Grosser Garden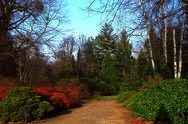 Brühl's Terrace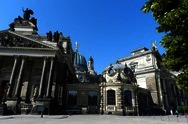 Dresden

Arrival Airports
Dresden (DRS)
- 9 km. from Dresden city center
Public transportation to city center:
Every 10 minutes, 4,00 €, 25 minutes.
Main stops: Dresden Am Steinacker, Dresden Sankt Pauli cemetery, Dresden Hans-Easter Road
Every 15 minutes, 4,00 €, 25 minutes.
Main stops: Dresden Airport, Dresden Grenzstraße, Dresden-Klotzsche, Dresden Industriegelände
Taxi: 20 €, 15 minutes drive to city center of Dresden
Berlin Schönefeld (SXF)
- 148 km. from Dresden city center
Public transportation to city center:
Every 60 minutes, 60,00 €, 210 minutes.
Main stops: S Flughafen Berlin-Schönefeld Bhf, S Treptower Park (Berlin), Berlin Südkreuz, Leipzig Hauptbahnhof, Dresden-Neustadt
Taxi: 295 €, 110 minutes drive to city center of Dresden
Direct international flights from:
United Kingdom: Belfast International, Bristol, East Midlands, Edinburgh, Glasgow International, Leeds Bradford, Liverpool, London Gatwick, London Luton, London Stansted, Manchester
Ireland: Dublin, Shannon
Berlin Tegel (TXL)
- 170 km. from Dresden city center
Public transportation to city center:
Every 30 minutes, 22,00 €, 300 minutes.
Main stops: Hinckeldeybrücke, S+U Jungfernheide Bhf, U Turmstr., Berlin Central Station, Leipzig Houptbahnhof, Dresden-Neustadt
Taxi: 353 €, 130 minutes drive to city center of Dresden
Direct international flights from:
United Kingdom: Birmingham, Cardiff, Doncaster Sheffield, Jersey, London City, London Heathrow, London Stansted
USA: Chicago O'Hare International, Miami International, New York John F. Kennedy, New York Newark
Ireland: Dublin
Other destinations that were popular to combine with courses in Dresden
Ask a question