Lindau Language School Ranking based on student ratings - 1 schools
Filter
Map
Interested in online courses?
Lindau ratings & opinions
How our students rated their experience in Lindau
Overall attractiveness of Lindau
46 authentic ratings from students who reserved a course with us in Lindau
What our students said about Lindau
5.0
A truly beautiful town, situated right on the lake. It was pretty hot so many of us went swimming most days. Neat and cosy, easy to get around. A REWE supermarket has all the necessaries, and there is a shopping centre about 20 minutes. walk away where you can get practically anything. There are many very nice restaurants and a couple of nice bars - I'm a bit too old to be able to judge nightlife! Unique surroundings, lovely villages all around, and great destinations for short trips in the vicinity (Nonnenhorn, Schaffhausen, Bregenz to name a few). The school itself is conveniently located above the train station, next to the InselHostel (if you happen to stay there) and the bus terminus.
Athos-Pavlos
Greece
5.0
Quiet place to study. Few people, many tourists. An ideal climate, not hot. Good food. Both German and Italian
Federico
Italy
5.0
It's a beautiful place and is also good for bikers.
Benjamin
Italy
4.0
It is a beautiful city that is worth seeing once.
Ana
Spain
5.0
Stunningly beautiful, but very expensive.
Mariia
Russia
Information about Lindau
Why Lindau? Lindau is a city and an island in the eastern part of the Lake Constance, the Bodensee. It is located near where the three borders of Austria, Germany and Switzerland meet, and it is close to the Alps. Due to its historic medieval city center and the pleasant location by the lake, Lindau is a popular place for sightseeing tours and holidays.
Key Facts about Lindau
Population: 25,000
Time zone: -7h. (GMT +1)
Region: Bavaria, Swabia
Currency: EUR (1 EUR = 1.4517 SGD)
Visa requirements data last updated on 01 Dec. 2022
(
Source
)
High season: July
Low season: November
Average course price per week (High season): 359 €
Average course price per week (Low season): 181 €
Cost of Living:
Big Mac price (Germany average):

4.44 €

(13% more expensive than in Singapore)
Mains electricity:
Residential voltage:

230 V

Frequency:

50 Hz
Weather in Lindau
Climate Table
Legend:
Midday Temperature
Night-time Temperature
79

mm
76

mm
86

mm
124

mm
147

mm
203

mm
191

mm
162

mm
138

mm
109

mm
120

mm
95

mm
What to do in Lindau
Old Townhall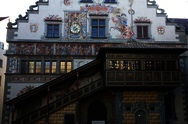 Pfänder Cable Car (Bregenz)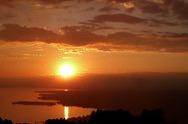 Arrival airports
Friedrichshafen (FDH)
- 19 km. from Lindau city center
Public transportation to city center:
Every 30 minutes, 60 minutes.
Main stops: Friedrichshafen Airport, Friedrichshafen Stadt + Friedrichshafen Stadt, Lindau Hauptbahnhof
Taxi: 35 minutes drive to city center of Lindau
Allgäu , Memmingen (FMM)
- 64 km. from Lindau city center
Public transportation to city center:
+
Every 60 minutes, 120 minutes.
Main stops: Memmingen Airport, Memmingen ZOB + Memmingen - Central Bus Station, Lindau
Every 180 minutes, 75 minutes.
Main stops: Memmingen, Lindau Hbf
Taxi: 55 minutes drive to city center of Lindau
Zurich (ZRH)
- 85 km. from Lindau city center
Public transportation to city center:
+
Every 10 minutes, 210 minutes.
Main stops: Zürich HB (Carpark Sihlquai), St. Margrethen, Hard-Fussach, Lindau Hbf
Taxi: 100 minutes drive to city center of Lindau
Other destinations that were popular to combine with courses in Lindau
Didn't find what you are looking for?
Interested in language travel to other cities? Have a look at German language schools in other cities in Germany such as Augsburg, Bamberg, Berlin, Bonn, Bremen

...
, Brunswick, Cologne, Dresden, Duisburg, Düsseldorf, Ebernburg, Erfurt, Frankfurt, Freiburg, Greifswald, Hamburg, Hannover, Heidelberg, Horb am Neckar, Landshut, Lübbecke, Mainz, Mannheim, Muenster, Munich, Nuremberg, Radolfzell, Regensburg, Rheinfelden, Schwerin, Stuttgart, Wiesbaden or see our list of all schools in Germany.
You may also want to consult options outside Germany for learning German.