6000+ language and dialects worldwide
Comprehensive list including number of speakers, countries and ISO codes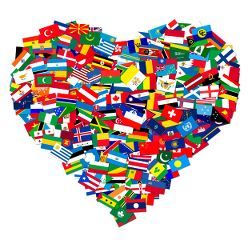 For over 99% of the 6000 languages and dialects there are today hardly any quality language learning tools available, because these languages are simply not profitable for commercial education providers.
If you happen to be a native speaker of one of these 99% less common languages then you frequently lack good tools and material for learning even major languages such as English.
Let's change this!
Let's publish the Vocabulary Trainer for every language spoken on earth, for free, with all the features.
Do you speak any of the languages or dialects below?
Just click on the link and translate a few words, we're only asking you to spend one minute of your time. For the beginner course in each language, we need translations of these 500 most frequent words:
Languages in USA
Sort by: Name ▲ | ISO Alpha-2 ▲▼ | ISO Alpha-3/5 ▲▼ | Speakers worldwide ▲▼

All languages and dialects worldwide
Languages starting with: A | B | C | D | E | F | G | H | I | J | K | L | M | N | O | P | Q | R | S | T | U | V | W | X | Y | Z | Other characters


Sort by: Name ▲ | Name (English) ▲▼ | ISO Alpha-2 ▲▼ | ISO Alpha-3/5 ▲▼ | Speakers worldwide ▲▼