Antalya Language School Ranking based on student ratings - 2 schools
Filter
Map
Interested in online courses?
Antalya ratings & opinions
How our students rated their experience in Antalya
Overall attractiveness of Antalya
41 authentic ratings from students who reserved a course with us in Antalya
What our students said about Antalya
4.0
In order to use the public transport you should get the "antalyakart".
Dieter
Germany
Information about Antalya
Why Antalya? Once seen as simply the gateway to the Turkish Riviera, Antalya today is very much a destination in its own right. Both classically beautiful and stylishly modern it is Turkey's biggest international sea resort and the largest city on Turkey's western Mediterranean.The wonderfully preserved old-city district of Kaleiçi (which literally means 'within the castle'), offers atmospheric accommodation in the finely restored Ottoman houses on its winding lanes. The old city wraps around a splendid Roman-era harbour with clifftop views of hazy-blue mountain silhouettes. A short distance from the city are two beautiful beaches and one of Turkey's finest museums.
Key Facts about Antalya
Population: 759,000
Time zone: +12h. (GMT +2)
Region: Antalya,
Currency: TRY (1 TRY = 0.0477 USD)
Visa requirements data last updated on 01 Dec. 2022
(
Source
)
High season: August
Low season: January
Average course price per week: 172 US$
Cost of Living:
* 100 = prices in New York
Student price index excluding rent:

38* (62% cheaper than New York)

Student price index including rent:

23* (77% cheaper than New York)
Price index food only:

33* (67% cheaper than New York)

Big Mac price (Turkey average):

56.17 TRY

(48% cheaper than in USA)
Mains electricity:
Residential voltage:

220 V

Frequency:

50 Hz
Weather in Antalya
Climate Table
Legend:
Midday Temperature
Night-time Temperature
60.8 °F
60.8 °F
60.8 °F
62.6 °F
68 °F
73.4 °F
77 °F
80.6 °F
78.8 °F
73.4 °F
68 °F
64.4 °F
240

mm
170

mm
90

mm
40

mm
30

mm
10

mm
0

mm
0

mm
10

mm
60

mm
110

mm
250

mm
What to do in Antalya
Hadrian's Gate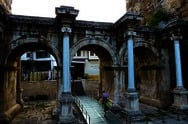 Arrival airport
Antalya (AYT)
- 9 km. from Antalya city center
Public transportation to city center:
Every 60 minutes, 45 minutes.
Main stops:
Every 30 minutes, 50 minutes.
Main stops: Antalya Airport, Antalya Otogari
Taxi: 15 minutes drive to city center of Antalya
FAQ about courses in Antalya
What is the best language school for adults in Antalya?

Which Turkish school in Antalya has the best location?

Babil Language School, located in Balbey Mh. Cengiz Toytunc cd Bakirci Hafiz ish. No: 42 4th floor flat: 402, Muratpasa has been voted as the school with the best location in Antalya.

What is the best airport to arrive to in Antalya?

How much is the cheapest Turkish course in Antalya?

142US$ for 1 weeks is the lowest price for a Turkish course in Antalya. The average cost of a language course in Antalya is 134US$ per week.

Which schools in Antalya offer the best excursions and afternoon activities?

Other destinations that were popular to combine with courses in Antalya

Didn't find what you are looking for?

Interested in language travel to other cities? Have a look at Turkish language schools in other cities in Turkey such as Istanbul, Izmir or see our list of all schools in Turkey. You may also want to consult options outside Turkey for learning Turkish.