3 Best language schools in Guadalajara (ranked based on student reviews)
Filter
Map
How we create the points regarding what we like/dislike about a school
Map with location of Spanish schools in Guadalajara



How our students rated their experience in Guadalajara
Overall attractiveness of Guadalajara
22 authentic ratings from students who reserved a course with us in Guadalajara
What our students said about Guadalajara
5.0
Beautiful city! Scores of fountains. Beautiful, historical buildings. People friendly and helpful. Streets clean! Public bathrooms very clean!
Mike

5.0
Fantastic for someone looking to build connections and experience Mexico
Corey

What school directors said about Guadalajara

Beautiful, colonial town full of history and tradition. Discover the hometown of mariachi and tequila.
Most recent student reviews of language schools in Guadalajara
Spanish course types in Guadalajara
Interested in online courses?
Interesting information about Guadalajara
Why Guadalajara? Guadalajara Mexico's second most populous city (after Mexico city)

...
and is known for tequila and mariachi music, both born in Jalisco, the state of which Guadalajara is the capital. Guadalajara has managed to make tradition and modernity coexist in a single space, its historic center is dotted with colonial plazas and landmarks such as the neoclassical Teatro Degollado and a cathedral with twin gold spires, but not so far away you will find that the city is a main producer of technology and software.
Key Facts about Guadalajara
Population: 1,496,000
Time zone: +4h. (GMT -6)
Region: Jalisco, Guadalajara
Currency: MXN (1 MXN = 0.0533 USD)
Visa requirements data last updated on 01-12-2022
(
Source
)
High season: January
Low season: December
Average course price per week (High season): 168 US$
Average course price per week (Low season): 177 US$
Cost of Living:
* 100 = prices in New York
Student price index excluding rent:

35* (65% cheaper than New York)

Student price index including rent:

23* (77% cheaper than New York)
Price index food only:

34* (66% cheaper than New York)

Big Mac price (Mexico average):

64.40 MXN

(33% cheaper than in USA)
Mains electricity:
Residential voltage:

127 V

Frequency:

60 Hz
Weather in Guadalajara
Climate Table
Legend:
Midday Temperature
Night-time Temperature
6.6
8
8.5
8.7
9
7.1
6.3
6.8
6.2
7.1
7.5
6.1
32 °F
32 °F
32 °F
32 °F
32 °F
32 °F
32 °F
32 °F
32 °F
32 °F
32 °F
32 °F
10

mm
0

mm
0

mm
0

mm
30

mm
160

mm
240

mm
200

mm
140

mm
40

mm
10

mm
10

mm
What to do in Guadalajara
Cathedral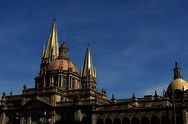 Cabañas Cultural Institute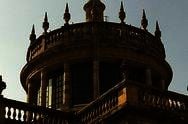 Arrival airport
Guadalajara International (GDL)
- 18 km. from Guadalajara city center
Public transportation to city center:
Every 60 minutes, 35 minutes.
Main stops: Guadalajara Airport, Guadalajara
Taxi: 20 minutes drive to city center of Guadalajara
Public transportation in Guadalajara
Other destinations that were popular to combine with courses in Guadalajara
FAQ about schools in Guadalajara
What is the best language school for adults in Guadalajara?

Which Spanish school in Guadalajara has the best location?

How much is the cheapest Spanish course in Guadalajara?

394US$ for 2 weeks is the lowest price for a Spanish course in Guadalajara. The average cost of a language course in Guadalajara is 168US$ per week.

Which schools in Guadalajara offer the best excursions and afternoon activities?

Which Spanish school offers the best rated teaching in Guadalajara?

Didn't find what you are looking for?