2 Best language schools in Puerto Vallarta (ranked based on student reviews)
Filter
Map
How we create the points regarding what we like/dislike about a school
Map with location of Spanish schools in Puerto Vallarta



How our students rated their experience in Puerto Vallarta
Overall attractiveness of Puerto Vallarta
31 authentic ratings from students who reserved a course with us in Puerto Vallarta
What our students said about Puerto Vallarta
5.0
Tragic to see all the litter every where. Do not understand why Latin American countries , which are blessed is so many ways cannot dispose of their garbage in places other than the streets and highways.
Rob
Canada
5.0
Too many tourist and people from the United States/Canada. Almost didn't feel like I was away from home.
Maxine

5.0
Wonderful! More students should check it out!
Vicki

What school directors said about Puerto Vallarta

Puerto Vallarta is a gem, located on the Pacific Coast of Mexico, on the same latitude as Maui, in Hawaii. With a mix of old Mexico charm and all the qualities and infrastructure of a first class beach destination, its natural beauty is breathtaking. The lush green mountains are to be seen from everywhere, as the jungle is jutting to the sky from the ocean and towering over the city. The heart of Puerto Vallarta is a quaint colonial town with traditional haciendas and architecture, cobblestone streets and whitewashed buildings. Farmers markets, art galleries and handicraft contribute greatly to Puerto Vallarta's unique charm. This is also where most of the boutiques, bars, clubs and countless restaurants are located, making Vallarta's thrilling nightlife famous.
Most recent student reviews of language schools in Puerto Vallarta
Spanish course types in Puerto Vallarta
Interested in online courses?
Interesting information about Puerto Vallarta
Why Puerto Vallarta? Puerto Vallarta is a resort town on Mexico's Pacific coast

...
popular among tourists and for good reason. It stretches around a sparkling blue bay and is backed by lush palm-covered mountains which makes it one of Mexico's most enticing coastal destinations. It is known for its dazzling sandy beaches, water sports and pumping LGBT-friendly nightlife scene. The ornate Nuestra Señora de Guadalupe church can be found in its cobblestone centre which is also home to many boutique shops and a range of restaurants and bars. Enjoy a stroll down El Malecón, a beach side boardwalk with bars, lounges and nightclubs. There are activities aplenty, including boat trips, horseback rides, diving trips and day trips to the nearby towns.
Key Facts about Puerto Vallarta
Population: 204,000
Time zone: +4h. (GMT -6)
Region: Jalisco, Puerto Vallarta
Currency: MXN (1 MXN = 0.0532 USD)
Visa requirements data last updated on Dec 01, 2022
(
Source
)
High season: January
Low season: September
Average course price per week (High season): 317 US$
Average course price per week (Low season): 286 US$
Cost of Living:
* 100 = prices in New York
Student price index excluding rent:

33* (67% cheaper than New York)

Student price index including rent:

23* (77% cheaper than New York)
Price index food only:

32* (68% cheaper than New York)

Big Mac price (Mexico average):

64.49 MXN

(33% cheaper than in USA)
Mains electricity:
Residential voltage:

127 V

Frequency:

60 Hz
Weather in Puerto Vallarta
Climate Table
Legend:
Midday Temperature
Night-time Temperature
78.8 °F
77 °F
77 °F
78.8 °F
78.8 °F
82.4 °F
82.4 °F
84.2 °F
84.2 °F
84.2 °F
82.4 °F
80.6 °F
25

mm
7

mm
6

mm
7

mm
11

mm
210

mm
362

mm
315

mm
360

mm
120

mm
13

mm
19

mm
What to do in Puerto Vallarta
Los Arcos Rocks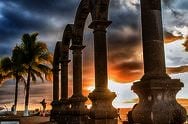 Los Muertos Beach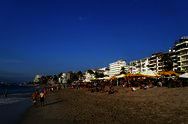 Arrival airport
Licenciado Gustavo Díaz Ordaz International (PVR)
- 7 km. from Puerto Vallarta city center
Public transportation to city center:
Every 10 minutes, 12 minutes.
Main stops: Aeropuerto, Plaza las Glorias
Taxi: 10 minutes drive to city center of Puerto Vallarta
Public transportation in Puerto Vallarta
Other destinations that were popular to combine with courses in Puerto Vallarta
Questions and answers about Puerto Vallarta
We are a family of 4 and are interested in booking a Spanish course. My daughter is 18 and she is at a higher level than us. My son is 15 and has had a year of Spanish. My husband and I are complete beginners. What do you recommend for each of us?

In Puerto Vallarta, our partner school is Spanish Experience and they offer Spanish programs suitable for all of the family, with something available for all levels. For students who already speak Spanish, on the first day of school there will be a placement test (grammar and speaking tests) and the group will be assigned based on the test results. Those who are absolute beginners in Spanish will start the course from scratch.

I recently retired at age 63. I'm wondering if you have any programmes or discounts for older learners.

The school Spanish Experience Center does not offer a special programme for 50+ students, however, by booking with LanguageCourse.net, you receive a 5% discount on the price of the course. This means that you pay less than you would if you booked directly with the school plus our service is completely free to you.

I am a medical professional and I know a little Spanish. Do you have any classes or a combination of classes to include learning Spanish and Medical Spanish?

"

Yes, you can book the Combination Course including group and private lessons. In the morning you will have general Spanish lessons and in the afternoon, the private lessons can be tailored to your needs. The school is open year-round and you can start your course any Monday.

"

Susana Chávez, Head of Administration from Spanish Experience Center - Sep 01, 2022

FAQ about schools in Puerto Vallarta

What is the best language school for adults in Puerto Vallarta?

Which Spanish school in Puerto Vallarta has the best location?

Spanish Experience Center, located in República de Chile #182, 5 de Diciembre has been voted as the school with the best location in Puerto Vallarta.

What is the best airport to arrive to in Puerto Vallarta?

Do schools in Puerto Vallarta offer courses to prepare for Spanish exams? Which exams?

How much is the cheapest Spanish course in Puerto Vallarta?

572US$ for 2 weeks is the lowest price for a Spanish course in Puerto Vallarta. The average cost of a language course in Puerto Vallarta is 301US$ per week.

I am looking for a Spanish summer school for 9-year-old girls. Do you have any options for young learners?

"

In Puerto Vallarta, the Spanish Experience Center is a good choice! In the summer, the school offers a Children's Program with many great activities that encourage learning within an environment of leisure and adventure. Activities are designed to develop skills in reading, writing, comprehension, and conversation, through different activities, methodologies, and academic materials.

"

Ana Carolina, Area Manager from LanguageCourse.net - Mar 17, 2022

Didn't find what you are looking for?