Oaxaca Language School Ranking based on student ratings - 4 schools
Filter
Map
Interested in online courses?
Oaxaca ratings & opinions
How our students rated their experience in Oaxaca
Overall attractiveness of Oaxaca
16 authentic ratings from students who reserved a course with us in Oaxaca
What our students said about Oaxaca
5.0
A beautiful, interesting city, lots of music and art. Lively and varied.
Rudolf
Germany
4.0
I would recommend it and I hope to return.
Elizabeth

Information about Oaxaca
Why Oaxaca? A cultural colossus fit to rival anywhere in Latin America, Oaxaca is a city in central Mexico. Lovers of culture will be in heaven here as Oaxaca is one of those cities where all the historical periods of a country shines: pre-Hispanic, colonial, independent, modern, and contemporary. It is an architectural gem with natural elegance in every corner, colonial building, museum, pre-Columbian ruins and the many brilliant baroque churches that are to be found at every turn. All of this coupled with its majestic churches and refined plazas have deservedly earned it a Unesco World Heritage badge. And if that's not enough to get you planning your trip already, fluorescent lagoons, lush mountains, culture, crafts, gastronomy, folklore, fiestas and many more great experiences should definitely win you over.
Key Facts about Oaxaca
Population: 256,000
Time zone: +4h. (GMT -6)
Region: Oaxaca, Oaxaca de Juárez
Currency: MXN (1 MXN = 0.0570 USD)
Visa requirements data last updated on 01 Dec. 2022
(
Source
)
High season: January
Low season: October
Average course price per week (High season): 77 US$
Average course price per week (Low season): 267 US$
Cost of Living:
Big Mac price (Mexico average):

60.21 MXN

(33% cheaper than in USA)
Mains electricity:
Residential voltage:

127 V

Frequency:

60 Hz
Weather in Oaxaca
Climate Table
Legend:
Midday Temperature
Night-time Temperature
32 °F
32 °F
32 °F
32 °F
32 °F
32 °F
32 °F
32 °F
32 °F
32 °F
32 °F
32 °F
0

mm
0

mm
10

mm
30

mm
80

mm
170

mm
80

mm
100

mm
120

mm
50

mm
10

mm
0

mm
What to do in Oaxaca
Santo Domingo Temple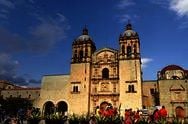 The Museum of Oaxacan Cultures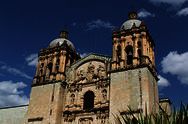 Zócalo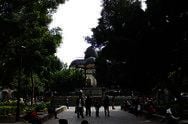 Oaxaca

Arrival airport
Oaxaca - Xoxocotlán International (OAX)
- 7 km. from Oaxaca city center
Public transportation to city center:
Taxi: 10 minutes drive to city center of Oaxaca
Public transportation in Oaxaca
Q&A - Questions and answers about Oaxaca
I have 2 kids ages 10 and 14...Do you offer any Spanish classes for kids for 2-4 weeks in the summer?

"

In Oaxaca, International House offers private lessons for students under 16. A methodology with a play-based approach is used to introduce them to the language with a focus on having fun while learning.

"

Ana Carolina Dos Santos, LanguageCourse.Net - Dec 22, 2022

We are very interested in booking the Spanish for Families but I am curious about what my daughter will be doing when I am in classes. Will she be immersed in Spanish as well but doing some fun things? Or will she be in a classroom setting? Will she be supported one-on-one? Will my instruction be one-on-one?

"

The program Spanish for Family includes 20 group lessons for an adult student and 20 private lessons for a child. For children, individual lessons with a play-based approach are used to introduce them to the language with a focus on having fun while learning.

"

Ana Carolina Dos Santos, LanguageCourse.Net - Oct 21, 2022

FAQ about courses in Oaxaca

What is the best language school for adults in Oaxaca?

Which Spanish school in Oaxaca has the best location?

International House, located in C. de Mariano Abasolo 217, Ruta Independencia, Centro has been voted as the school with the best location in Oaxaca.

How did students rate Oaxaca compared to other cities?

Students rated Oaxaca with 4.8 stars out of 5.

What is the best airport to arrive to in Oaxaca?

What type of business Spanish courses are offered in Oaxaca?

Other destinations that were popular to combine with courses in Oaxaca

Didn't find what you are looking for?