Best language schools in Queretaro (ranked based on student reviews)
You are interested in learning Spanish in Queretaro? We have researched all the details about the best Spanish language schools in Queretaro for you so that you can easily compare prices, reviews, courses for adults and teenagers and special offers.
Mexico: Covid-19 information for international visitors
Filter
Map
Didn't find what you are looking for?
Why Queretaro? The historical down town of the capital of Queretaro has been declared a \"Cultural Heritage Site\" by UNESCO. The city offers 470 years of tradition and history printed on its aqueduct, temples and ancient colonial houses that make up this city - one of the most beautiful colonial places in Mexico.
Interested in online courses?
Which school to choose?
Get free advice from our language travel experts to help you find the best school for you.
Most recent student reviews of language schools in Queretaro
What school directors said about Queretaro
It is one of the safest and cleanest cities in the country and only a few hours away from other beautiful colonial cities,such as Guanajuato and San Miguel de Allende; major centers for Mexican and international art. This city is the capital of the state of Queretaro, which includes numerous attractions for visitors, from archaeological sites to spa resorts. In the northern part of the state is the Sierra Gorda; one of the largest regions of natural areas in the central part of Mexico. A vast territory that offers five beautiful missions founded in the 18th century by Franciscan monks; a sharp contrast between the warm almost tropical landscape of northern parts of Jalpan, which belongs to the Huasteca region, and the pine-covered hills of Pinal de Amoles, a municipality located high in the mountains, where you can sometimes find snow during the winter.
Dulce Wirz
Director of OLE, lives in Queretaro since 1985
Most popular Spanish course types in Queretaro
Key Facts about Queretaro
Population: 627,000
Time zone: +4h. (GMT -6)
Region: Querétaro, Querétaro
Currency: MXN (1 MXN = 0.0506 USD)
Name of city in Spanish: Querétaro
Queretaro quality of life rating:

4.7 (20 reviews by our former students)
Cost of Living:
* 100 = prices in New York
Student price index excluding rent:

34* (66% cheaper than New York)

Student price index including rent:

22* (78% cheaper than New York)
Price index food only:

33* (67% cheaper than New York)

Big Mac price (Mexico average):

52.42 MXN (54% cheaper than in USA)
Mains electricity:
Residential voltage:

127 V

Frequency:

60 Hz
Map with location of Spanish schools in Queretaro



Public transportation in Queretaro
Weather in Queretaro
Climate Table
Legend:
Midday Temperature
Night-time Temperature
32 °F
32 °F
32 °F
32 °F
32 °F
32 °F
32 °F
32 °F
32 °F
32 °F
32 °F
32 °F
15

mm
9

mm
4

mm
15

mm
43

mm
95

mm
131

mm
85

mm
70

mm
40

mm
10

mm
10

mm
What to do in Queretaro
Museum of Arts of Queretaro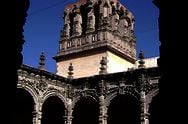 Regional Museum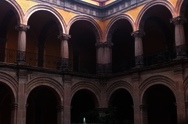 Arrival Airport
Benito Juárez International (MEX)
- 188 km. from Queretaro city center
Public transportation to city center:
+
Every 20 minutes, 520,00 MXN, 180 minutes.
Main stops: Terminal Aérea, Valle Gómez, Autobuses del Norte – Mexico City North Bus Terminal, Tepotzotlán, Querétaro
+
3 per day, 4905,00 MXN, 90 minutes.
Main stops: Mexico City (MEX), Queretaro (QRO) – Santiago de Querétaro
Taxi: 170 minutes drive to city center of Queretaro
Direct international flights from:
USA: Atlanta Hartsfield-Jackson, Boston Logan International, Chicago O'Hare International, Dallas Fort Worth International, Denver International, Detroit Wayne County, Fort Lauderdale International, Houston George Bush Intercntl., Las Vegas Mccarran, Los Angeles International, Mcallen, Miami International, New York John F. Kennedy, New York Newark, Oakland Metropolitan Oak, Orlando International, Orlando Sanford, Sacramento International, Salt Lake City, San Antonio International, San Diego International, San Francisco International, Washington Dulles
United Kingdom: London Heathrow
Canada: Montreal Pierre Elliott Trudeau, Toronto Pearson International, Vancouver International