Filter
Map
Best French schools in Lille by category
Lille Language School Ranking (based on student ratings)
How we create the points regarding what we like/dislike about a school
Lille ratings & opinions
How our students rated their experience in Lille
Overall attractiveness of Lille
3 authentic ratings from students who reserved a course with us in Lille
What our students said about Lille
5.0
Good for shopping with also many parks and gardens
Fiorella
Italy
Most recent student reviews of language schools in Lille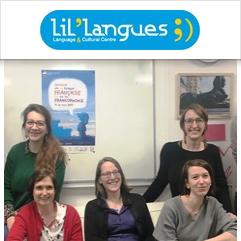 Very good teacher
Good school for beginners too

12 September 2022
Course: Extensive Programme - 1 week
Student age: 70 years
Interested in online courses?
Information about Lille
Why Lille? Lille is the new World Design Capital with various exhibitions and

...
festivities throughout the year. It has an enchanting old town boasting fabulous French and Flemish architecture, incredible cuisine, a buzzing nightlife scene and countless art museums.
Key Facts about Lille
Population: 235,000
Time zone: +11h. (GMT +1)
Currency: EUR (1 EUR = 1.0752 USD)
Visa requirements data last updated on 01-12-2022
(
Source
)
Cost of Living:
* 100 = prices in New York
Student price index excluding rent:

77* (23% cheaper than New York)

Student price index including rent:

51* (49% cheaper than New York)
Price index food only:

63* (37% cheaper than New York)

Big Mac price (France average):

4.44 €

(7% cheaper than in USA)
Mains electricity:
Residential voltage:

230 V

Frequency:

50 Hz
FAQ about schools in Lille
What is the best language school for adults in Lille?

LiL'Langues has received the best overall rating in Lille.

Which French school in Lille has the best location?

LiL'Langues, located in 36 Place Cormontaigne has been voted as the school with the best location in Lille.

What type of business French courses are offered in Lille?

Do schools in Lille offer courses to prepare for French exams? Which exams?

How much is the cheapest French course in Lille?

540€ for 2 weeks is the lowest price for a French course in Lille. The average cost of a language course in Lille is 231€ per week.

Other destinations that were popular to combine with courses in Lille

Didn't find what you are looking for?

Interested in language travel to other cities? Have a look at French language schools in other cities in France such as Aix-en-Provence, Annecy, Antibes, Avignon, Bayonne

...

, Béziers, Biarritz, Bordeaux, Brest, Cannes, Carcassonne, Lyon, Marseille, Montpellier, Morzine (Alpes), Nantes, Nice, Paris, Rennes, Rouen, Royan, Saint Laurent de Cerdans, Saint-Pierre (Réunion Island), Strasbourg, Toulon, Toulouse, Tours, Vichy or see our list of all schools in France. You may also want to consult options outside France for learning French.