Best language schools in Morzine (Alpes) (ranked based on student reviews)
Filter
Map
How we create the points regarding what we like/dislike about a school
Map with location of French schools in Morzine (Alpes)



How our students rated their experience in Morzine (Alpes)
Overall attractiveness of Morzine (Alpes)
9 authentic ratings from students who reserved a course with us in Morzine (Alpes)
What our students said about Morzine (Alpes)
4.0
Morzine is a lively, beautifully grown village with beautiful buildings, lots of sports shops and very good restaurants. There were almost exclusively UK tourists on site. So you could also improve your English ;-) You come into less contact with the locals. They are used to answering in English...
Bernd
Germany
3.0
The only minus is the food in very small quantities and in quality that leaves desire, and the division into classes that due to the absence of initial testing is not accurate.
Ernesto Yusuke
Japan
What school directors said about Morzine (Alpes)

Easy access from Geneva airport. If you are a sports/outdoors lover than you will love Morzine. With so many activities, there is never a dull moment
Most recent student reviews of language schools in Morzine (Alpes)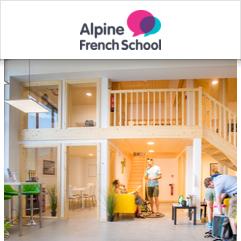 Very nice and very helpful administration. Competent and motivated teachers: Focus on speaking, often in small group work. Respond to the individuals.
Very nice and helpful staff.

31 January 2022
Course: Winter Intensive Course - 2 weeks
Student age: 61 years
French course types in Morzine (Alpes)
Interested in online courses?
Interesting information about Morzine (Alpes)
Why Morzine (Alpes)? Morzine is a ski resort in the French Alps set deep in the

...
Chablais mountain range, between Lake Geneva and Mont Blanc, close to the Swiss border. It's roots as an old French farming and mining town are still apparent in the village today but it has grown over the years to become a charming ski resort in winter and a mecca for mountain bikers, hikers and alpine climbers in the summer.
Key Facts about Morzine (Alpes)
Population: 4,000
Time zone: -8h. (GMT +1)
Currency: EUR (1 EUR = 1338.9799 KRW)
Visa requirements data last updated on 01-12-2022
(
Source
)
High season: July
Low season: November
Average course price per week (High season): 353 €
Average course price per week (Low season): 287 €
Cost of Living:
Big Mac price (France average):

4.40 €

(36% more expensive than in South Korea)
Mains electricity:
Residential voltage:

230 V

Frequency:

50 Hz
Events in Morzine (Alpes)
Best time to take a language course in Morzine (Alpes)
Spartan Race
July 2023Situated in the French Alps, this Spartan race takes place over a Spartan summer weekend. Over 7,000 Spartans meet over the 3 days, as they take on the challenge of these extraordinary and breathtaking routes.
Tour de France
July 2023The infamous Tour de France bicycle race is primarily held in France, yet, on occasion, may also pass through neighbouring countries. A 23 day, multistage event, the Tour de France is highly anticipated every year.
Triathlon Morzine Montriond
August 2023Possibly one of the world's most breathtaking sprint triathlons, the Morzine-Montriond Triathlon is always highly anticipated.
Arrival airport
Aéroport Genève-Cointrin (GVA)
- 46 km. from Morzine (Alpes) city center
Public transportation to city center:
2 per day, 110 minutes.
Main stops: Geneva Airport, Morzine
Taxi: 85 minutes drive to city center of Morzine (Alpes)
Other destinations that were popular to combine with courses in Morzine (Alpes)
Didn't find what you are looking for?
Interested in language travel to other cities? Have a look at French language schools in other cities in France such as Aix-en-Provence, Annecy, Antibes, Avignon, Béziers

...
, Biarritz, Bordeaux, Brest, Cannes, Lille, Lyon, Marseille, Montpellier, Nantes, Nice, Paris, Rennes, Rouen, Royan, Saint Laurent de Cerdans, Saint-Pierre (Réunion Island), Toulon, Toulouse, Tours, Vichy or see our list of all schools in France.
You may also want to consult options outside France for learning French.