Best language schools in Brest (ranked based on student reviews)
You are interested in learning French in Brest? We have researched all the details about the best French language schools in Brest for you so that you can easily compare prices, reviews, courses for adults and teenagers and special offers.
France: Covid-19 information for international visitors
Filter
Map
Didn't find what you are looking for?
Interested in language travel to
other cities
? Have a look at French language schools in other cities in France such as
Aix-en-Provence
,
Annecy
,
Antibes
,
Avignon
,
Béziers
,
Biarritz
,
Bordeaux
,
Cannes
,
Lille
,
Lyon
,
Marseille
,
Montpellier
,
Morzine (Alpes)
,
Nantes
,
Nice
,
Paris
,
Rennes
,
Rouen
,
Royan
,
Saint Laurent de Cerdans
,
Saint-Pierre (Réunion Island)
,
Toulon
,
Toulouse
,
Tours
,
Vichy
or see our list of all
schools in France
. You may also want to consult options outside France for
learning French
.
Why Brest? Brest is situated in Bretagne and is an important port and naval base. The city offers beautiful nature, cafés, Irish pubs and is especially known for its piano bars.
Interested in online courses?
Which school to choose?
Get free advice from our language travel experts to help you find the best school for you.
Most recent student reviews of language schools in Brest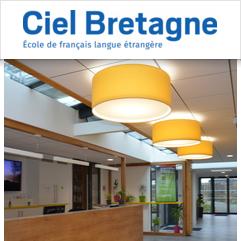 CIEL
meeting people from all over the world
very well organised and friendly

28 July 2007
Course: Semi-Intensive - 2 weeks
Student age: 25 years
Sophia Roma
Aut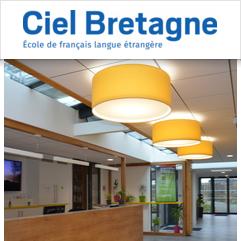 CIEL
people from other countries and my - teacher, she was fantastic!!
great school and location of the school, teacher were very good and open with everyone, very helpful - just come to CIEL!! (you won't regret this)

12 August 2006
Course: Semi-Intensive - 2 weeks
Student age: 24 years
Joanna
polish
What school directors said about Brest

Brest has a nice environment and quality of life, is full of nice people and nice host families. It has a presence of the sea and is home to "Brest 2020": international maritime meeting (1000 ships).
Dominique CHATEAU
Director of CIEL, lives in Brest since 1984
Most popular French course types in Brest
Key Facts about Brest
Population: 145,000
Time zone: +11h. (GMT +1)
Region: Brittany, Département du Finistère
Currency: EUR (1 EUR = 1.1864 USD)
Brest quality of life rating:

3.8 (16 reviews by our former students)
Cost of Living:
* 100 = prices in New York
Student price index excluding rent:

75* (25% cheaper than New York)

Student price index including rent:

101* (1% more expensive than New York)
Price index food only:

67* (33% cheaper than New York)

Big Mac price (France average):

3.85 € (20% cheaper than in USA)
Mains electricity:
Residential voltage:

230 V

Frequency:

50 Hz
Map with location of French schools in Brest