Vichy Language School Ranking based on student ratings - 1 school
Filter
Map
Accreditations:
Cavilam school is located in the historic town of Vichy, in southern France. Housed in a large modern facility spanning 9 000 square metres, on the banks of the Allier river and within minutes of the Parc des Célestins, Cavilam offers students a unique opportunity to study French. Vichy has several large green spaces to be enjoyed, is very tranquil and is an excellent location to learn and study. Students also have such local attractions as the Vichy Spas to relax and enjoy during their time in Vichy. A harbour to many international and national students alike, Cavilam offers an extraordinary studying environment and opportunity. The school has fantastic facilities that cater to the needs of students of the French language as well as history and culture. The expansive library of over 20 000 documents on all types of media (books, press, CDs, DVDs), is the house of much information available to students openly. The school offers activities and workshops regularly, ensuring that students deepen their encounters with the French culture whilst enjoying excursions such as wilderness walks, city tours and tastings. Course selection with Cavilam is extensive, including options for students looking for general programmes, teachers, seniors and juniors students and those looking to prepare for university-level studies. The school's facilities include a cafeteria, computer lab, free after-class access to language learning software, an extensive library, auditorium, garden, movie room and a student support desk for any questions, queries or assistance.
More
| | |
| --- | --- |
| 3.5 | Quality of teaching |
| 3.0 | Leisure program |
Interested in online courses?
Vichy ratings & opinions
What our students said about Vichy
4.0
Too far off the beaten path. I really liked the size of the town. I like much more sun than I experienced but the weather is not so controllable.
Sallyjo

Most recent student reviews of language schools in Vichy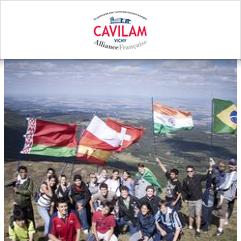 Welcoming and organised administration. Class sizes are not too big.
In the morning class, Margo is very dynamic and fun but I felt like there was a lot of speaking which we already get in the afternoon classes. But I was only there for a week so maybe it's different week to week. I had a very informative week and the content I learned in the mornings was new to me, e.g. social security in France, the French education system. I wish I could have stayed longer!

21 May 2019
Course: Intensive French Programme - 1 week
Student age: 33 years
Information about Vichy
Why Vichy? Hugged by a bend in the Allier River, the fresh spring water of the region has defined Vichy as a regal spa town since the 17th century. Visitors would and still do flock to sip its reputable healing waters and plunge into thermal springs. Manicured gardens dating back to the 18th and 19th centuries and art-deco buildings such as the the art nouveau–style opera and Église St-Blaise lend highly to the the town's feeling of time-worn glamour.
Key Facts about Vichy
Time zone: GMT +0
Currency: (1 = 0.0000 USD)
Visa requirements data last updated on 01 Dec. 2022
(
Source
)
Cost of Living:
Big Mac price (France average):

0.00

(7% cheaper than in USA)
Mains electricity:
Residential voltage:

230 V

Frequency:

50 Hz
Didn't find what you are looking for?
Interested in language travel to other cities? Have a look at French language schools in other cities in France such as Aix-en-Provence, Annecy, Antibes, Avignon, Bayonne

...
, Béziers, Biarritz, Bordeaux, Brest, Caen, Cannes, Carcassonne, La Rochelle, Lille, Lyon, Marseille, Montévrain, Montpellier, Morzine (Alpes), Nantes, Nice, Paris, Perpignan, Rennes, Rouen, Royan, Saint Laurent de Cerdans, Strasbourg, Toulon, Toulouse, Tours or see our list of all schools in France.
You may also want to consult options outside France for learning French.