Filter
Map
Didn't find what you are looking for?
Interested in language travel to other cities? Have a look at Japanese language schools in other cities in Japan such as Fukuoka, Gyoda, Kobe, Kyoto

...
Why Nagano? Nagano is Japanese countryside at its finest and is sure to be a highlight

...
of your trip to Japan. It is incredibly convenient to reach other big cities such as Tokyo, Osaka and Kyoto thanks to the very comfortable trains that run daily. Nagano City is a temple town surrounded by majestic 3000-meter high mountain peaks and has attracted thousands of pilgrims for thousands of years, when the city was a temple town centred on the magnificent Zenkō-jiZenkoji. Besides being a treasure trove of nature, history and culture, Nagano is bursting with many natural hot springs. Come and enjoy views of the snow capped mountains as a back-drop to the fabulous cherry blossoms in spring. The crisp, clean water and air can be enjoyed all year round. Nagano is famous for its tantalising cuisine and one should not leave without sampling their famous soba noodles, apples and sake.
Interested in online courses?
What school directors said about Nagano

Nagano is not only famous for its beautiful nature, but also for its historical landmarks, Onsen (hot springs), and winter sports. It's a great place for a long stay!
Most popular Japanese course types in Nagano
Interesting information about Nagano
Key Facts about Nagano
Time zone: GMT +9
Region: Ōsaka,
Currency: JPY (1 JPY = 10.5486 KRW)
Name of city in Japanese: 長野市
Cost of Living:
Big Mac price (Japan average):

406.96 ¥ (6% cheaper than in South Korea)
Mains electricity:
Residential voltage:

100 V

Frequency:

60 Hz / 50 Hz
Map with location of Japanese schools in Nagano



Events in Nagano
Best time to take a language course in Nagano
Ueda Gion Matsuri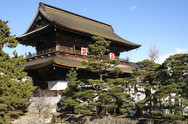 July 2022The Gion festival is based on many rituals as it is a religious celebration. This celebration is widely celebrated in Japan.