Siracusa Language School Ranking based on student ratings - 2 schools
Filter
Map
Interested in online courses?
Siracusa ratings & opinions
How our students rated their experience in Siracusa
Overall attractiveness of Siracusa
12 authentic ratings from students who reserved a course with us in Siracusa
What our students said about Siracusa
5.0
Siracusa has a rich history and there are many historical monuments to visit, for example from Greek and Roman times. Unfortunately it is very noisy and dangerous due to the heavy traffic. It is common not to adhere to traffic rules and to disregard safety regulations.
Daniel
Germany
3.0
If you like warm weather and beach its a good place to go. Ortigia had a lot of food and things to do and see.
James
Italy
4.0
Beautiful, historical, and charming
AOUN
Kuwait
Information about Siracusa
Why Siracusa? More than any other city in Europe, Syracuse is the most noble and elegant and encapsulates Sicily's timeless beauty like no other. Full of charm, history and natural landscape it is envied by many. In its heyday it was the largest city in the ancient world, even bigger than Athens and Corinth. Ancient Greek ruins rise out of lush citrus orchards, cafe tables spill onto dazzling baroque piazzas and honey-hued medieval lanes lead down to the sparkling blue Mediterranean sea. Across the water from the mainland, Ortygia is still considered to be the city's most beautiful corner. A casually chic, eclectic marvel with an ever-growing legion of fans.
Key Facts about Siracusa
Population: 122,000
Elevation: 17 m. above sea level
Time zone: +11h. (GMT +1)
Region: Sicily, Provincia di Siracusa
Currency: EUR (1 EUR = 1.0691 USD)
Visa requirements data last updated on 01 Dec. 2022
(
Source
)
High season: July
Low season: January
Average course price per week: 254 €
Cost of Living:
Big Mac price (Italy average):

4.46 €

(7% cheaper than in USA)
Mains electricity:
Residential voltage:

230 V

Frequency:

50 Hz
Events in Siracusa
Best time to take a language course in Siracusa
Classical Plays - Ancient Drama Festival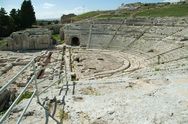 07 May 2023 - 01 August 2023Classical plays at the Greek Theatre, is an incredible opportunity to watch plays that have been written thousands of years ago play at the same place they were back in their day. Take this opportunity to load up on your yearly dose of culture!
FAQ about courses in Siracusa
What is the best language school for adults in Siracusa?

Which Italian school in Siracusa has the best location?

The Italian Academy, located in Piazzale San Marziano, 1 has been voted as the school with the best location in Siracusa.

Which Italian school offers the best rated teaching in Siracusa?

Which school offers the best accommodation in Siracusa?

How did students rate Siracusa compared to other cities?

Students rated Siracusa with 4.3 stars out of 5.

Other destinations that were popular to combine with courses in Siracusa

Didn't find what you are looking for?

Interested in language travel to other cities? Have a look at Italian language schools in other cities in Italy such as , Alberobello, Alghero, Alghero (Sardinia), Arezzo

...

, Ascoli Piceno, Bagno di Romagna, Bari, Bologna, Brindisi, Cagliari, Calabria, Camerano, Castiglioncello, Catania, Cefalù, Como, Cortona, Cosenza, Florence, Genoa, Island of Elba, La Maddalena, Lucca, Milan, Milazzo (Sicily), Modena, Mola di Bari, Montepulciano, Naples, Orbetello, Oristano (Sardinia), Otranto, Palermo, Pescara, Pisa, Ravenna, Reggio Emilia, Rimini, Rome, Salerno, Sanremo, Santa Domenica, Sestri Levante, Siena, Sorrento, Taormina, Todi, Trapani (Sicily), Trieste, Tropea, Turin, Urbania, Varese, Venice, Verona, Viareggio, Vibo Valentia, Vicenza or see our list of all schools in Italy. You may also want to consult options outside Italy for learning Italian.