Milazzo Sicily Language School Ranking based on student ratings - 1 school
Filter
Map
Accreditations:
This school is an official exam centre for the CILS exam. Laboling Milazzo is an Italian language school located in the picturesque town of Milazzo, on Italy's southern island of Sicily. The school is housed in Milazzo Old Town, surrounded by cafes, eateries, restaurants and historical landmarks whilst also being within walking distance of several beaches and walking routes. Attractions and sites of interest within walking distance of the school include the West Beach, Milazzo marina, Milazzo Castle and the MuMa (Museo del Mare Milazzo). The school supplies different types of Italian programmes for students of all levels and various ages, several times throughout the year. Immersive programmes for adults, which include accommodation, are available for periods of 4-weeks, starting every month of the year. Immersive Senior 50+ programmes are available for 1 or 2 weeks, a couple of times a year, as are Teacher Training and combination courses of Italian, trekking and sailing. CILS Exam Preparation courses are available regularly throughout the year. Many programmes include accommodation in shared apartment facilities within walking distance of the school. Should accommodation not be included in the programme, the school can arrange a stay in a homestay with local families or shared apartments, subject to availability. The school facilities include a library, free WIFI, a movie room, free parking and a student support desk for any questions that arise.
More
Reviews by student age group
Students < 18 years
0.0
(0)
Students 18-30 years
4.6
(10)
Students 30-49 years
4.7
(13)
Students 50+ years
4.4
(28)
| | |
| --- | --- |
| 4.8 | Quality of teaching |
| 4.4 | Leisure program |
Interested in online courses?
Milazzo (Sicily) ratings & opinions
How our students rated their experience in Milazzo (Sicily)
Overall attractiveness of Milazzo (Sicily)
57 authentic ratings from students who reserved a course with us in Milazzo (Sicily)
What our students said about Milazzo (Sicily)
5.0
Due to its location on the peninsula, the sea is never far away, and the beach is very beautiful, partly because of the view of the Lipari Islands. There are a couple of cultural highlights, but you are not overwhelmed by them. Perfect for a holiday with a language course, for a holiday without anything to do it might be boring. Public transport connections are available, but if you often want to go on excursions to Palermo or Catania etc., it is a bit of a hassle. On the other hand, there is little international tourism, which I liked.
Christoph
Germany
5.0
Milazzo is very beautiful, especially the long beaches. I was impressed by the incredible friendliness of the people towards my dog. That alone is a reason to come back!
Ursula
Germany
5.0
It was a pleasant surprise for me. The town was clean and the beach was clean. I felt safe when I was walking home alone at night.
AKIKO
Japan
5.0
A good place to study and a perfect starting point for excursions.
Antje
Germany
What school directors said about Milazzo (Sicily)
Coming to Sicily allows to be immersed in our culture and explore places of significance in history, mythology, literature and film. Milazzo is the right place for those who wish to live in an authentic Italian environment far from mass tourism.
Rosalba Mondì
Director of Laboling, lives in Milazzo (Sicily) since 1971
Information about Milazzo (Sicily)
Why Milazzo (Sicily)? Sicily is Italy's and Europe's most historically cosmopolitan region, having been ruled by Asians, Africans and Europeans. On the sea shore of the Ionian Sea, it offers a wide variety of panoramas and scenarios. It is truly an island of beauty and contrast and was also the home of Archimedes, Giovanni Falcone and Bellini.
Key Facts about Milazzo (Sicily)
Population: 32,000
Elevation: 1 m. above sea level
Time zone: +11h. (GMT +1)
Region: Sicily, Messina
Currency: EUR (1 EUR = 1.0537 USD)
Name of city in Italian: Milazzo (Sicilia)
Visa requirements data last updated on 01 Dec. 2022
(
Source
)
High season: September
Low season: December
Average course price per week (High season): 220 €
Average course price per week (Low season): 263 €
Cost of Living:
Big Mac price (Italy average):

4.53 €

(7% cheaper than in USA)
Mains electricity:
Residential voltage:

230 V

Frequency:

50 Hz
Weather in Milazzo (Sicily)
Climate Table
Legend:
Midday Temperature
Night-time Temperature
32 °F
32 °F
32 °F
32 °F
32 °F
32 °F
32 °F
32 °F
32 °F
32 °F
32 °F
32 °F
113

mm
98

mm
84

mm
60

mm
32

mm
14

mm
19

mm
24

mm
55

mm
109

mm
107

mm
117

mm
What to do in Milazzo (Sicily)
Milazzo Cape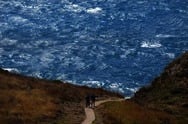 Arrival airport
Catania Fontanarossa (CTA)
- 85 km. from Milazzo (Sicily) city center
Public transportation to city center:
Every 180 minutes, 130 minutes.
Main stops: Catania Airport, Tremestieri, Pistunina, Contesse, Via Taormina, Via La Farina, Messina, Milazzo
+
Every 180 minutes, 140 minutes.
Main stops: Catania Airport, Catania – Catania Centrale, Acireale, Giarre-Riposto, Taormina-Giardini, Roccalumera-Mandanici, Nizza di Sicilia, Messina Centrale – Messina, Milazzo
Taxi: 80 minutes drive to city center of Milazzo (Sicily)
Didn't find what you are looking for?
Interested in language travel to other cities? Have a look at Italian language schools in other cities in Italy such as , Alberobello, Alghero (Sardinia), Arezzo, Ascoli Piceno

...
, Bagno di Romagna, Bari, Bologna, Brindisi, Cagliari, Calabria, Camerano, Castiglioncello, Catania, Cefalù, Città di Castello, Como, Cortona, Cosenza, Florence, Genoa, Island of Elba, La Maddalena, Lucca, Milan, Modena, Mola di Bari, Montepulciano, Naples, Orbetello, Oristano (Sardinia), Otranto, Palermo, Pescara, Pisa, Ravenna, Reggio Emilia, Rimini, Rome, Salerno, Sanremo, Santa Domenica, Sestri Levante, Siena, Siracusa, Sorrento, Taormina, Todi, Trapani (Sicily), Trieste, Tropea, Turin, Urbania, Varese, Venice, Verona, Viareggio, Vibo Valentia, Vicenza or see our list of all schools in Italy.
You may also want to consult options outside Italy for learning Italian.