Filter
Map
Methodology of language school ranking
This ranking of language schools in Milazzo (Sicily) is 100% transparent. It is
exclusively based on the objective criteria of authentic reviews of clients
who booked their language course at our site, and whose
attendance was verified
. The
primary ranking criteria is the average overall student satisfaction
rating (
detailed information about the methodology
).
Didn't find what you are looking for?
Interested in language travel to other cities? Have a look at Italian language schools in other cities in Italy such as Alberobello, Alghero (Sardinia), Arezzo, Ascoli Piceno, Bagno di Romagna

...
, Bari, Bologna, Brindisi, Cagliari, Calabria, Camerano, Castiglioncello, Catania, Catania (Sicily), Cefalù, Como, Cortona, Florence, Genoa, Island of Elba, La Maddalena, Lucca, Milan, Modena, Mola di Bari, Montepulciano, Naples, Orbetello, Oristano (Sardinia), Otranto, Palermo, Pescara, Pisa, Ravenna, Reggio Emilia, Rimini, Rome, Salerno, Sanremo, Santa Domenica, Sestri Levante, Siena, Siracusa, Sorrento, Taormina, Todi, Trapani (Sicily), Trieste, Tropea, Turin, Urbania, Varese, Venice, Verona, Viareggio, Vibo Valentia, Vicenza or see our list of all schools in Italy.
You may also want to consult options outside Italy for learning Italian.
Why Milazzo (Sicily)? Sicily is Italy's and Europe's most historically cosmopolitan

...
region, having been ruled by Asians, Africans and Europeans. On the sea shore of the Ionian Sea, it offers a wide variety of panoramas and scenarios. It is truly an island of beauty and contrast and was also the home of Archimedes, Giovanni Falcone and Bellini.
Interested in online courses?
What our students said about Milazzo (Sicily)
5.0
It was a pleasant surprise for me. The town was clean and the beach was clean. I felt safe when I was walking home alone at night.
AKIKO
Japan
5.0
A good place to study and a perfect starting point for excursions.
Antje
Germany
How our students rated their experience in Milazzo (Sicily)
Overall city attractiveness
52 authentic reviews from students who reserved with us
Most recent student reviews of language schools in Milazzo (Sicily)
What school directors said about Milazzo (Sicily)
Coming to Sicily allows to be immersed in our culture and explore places of significance in history, mythology, literature and film. Milazzo is the right place for those who wish to live in an authentic Italian environment far from mass tourism.
Rosalba Mondì
Director of Laboling, lives in Milazzo (Sicily) since 1971
Most popular Italian course types in Milazzo (Sicily)
Interesting information about Milazzo (Sicily)
Key Facts about Milazzo (Sicily)
Population: 32,000
Elevation: 1 m. above sea level
Time zone: +11h. (GMT +1)
Region: Sicily, Messina
Currency: EUR (1 EUR = 1.0459 USD)
Name of city in Italian: Milazzo (Sicilia)
High season: September
Low season: December
Average course price per week (High season): 180 €
Average course price per week (Low season): 230 €
Cost of Living:
Big Mac price (Italy average):

4.37 € (20% cheaper than in USA)
Mains electricity:
Residential voltage:

230 V

Frequency:

50 Hz
Map with location of Italian schools in Milazzo (Sicily)



Weather in Milazzo (Sicily)
Climate Table
Legend:
Midday Temperature
Night-time Temperature
32 °F
32 °F
32 °F
32 °F
32 °F
32 °F
32 °F
32 °F
32 °F
32 °F
32 °F
32 °F
113

mm
98

mm
84

mm
60

mm
32

mm
14

mm
19

mm
24

mm
55

mm
109

mm
107

mm
117

mm
What to do in Milazzo (Sicily)
Milazzo Cape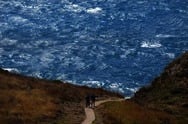 Arrival Airport
Catania–Fontanarossa (CTA)
- 84 km. from Milazzo (Sicily) city center
Public transportation to city center:
Every 180 minutes, 13,00 €, 130 minutes.
Main stops: Catania Airport, Tremestieri, Pistunina, Contesse, Via Taormina, Via La Farina, Messina, Milazzo
+
Every 180 minutes, 12,00 €, 140 minutes.
Main stops: Catania Airport, Catania – Catania Centrale, Acireale, Giarre-Riposto, Taormina-Giardini, Roccalumera-Mandanici, Nizza di Sicilia, Messina Centrale – Messina, Milazzo
Taxi: 155 €, 80 minutes drive to city center of Milazzo (Sicily)
Direct international flights from:
United Kingdom: Bristol, London Gatwick, London Luton, Manchester
Ireland: Dublin
Other destinations that were popular to combine with courses in Milazzo (Sicily)