Trapani Sicily Language School Ranking based on student ratings - 1 school
Filter
Map
Interested in online courses?
Trapani (Sicily) ratings & opinions
How our students rated their experience in Trapani (Sicily)
Overall attractiveness of Trapani (Sicily)
3 authentic ratings from students who reserved a course with us in Trapani (Sicily)
What our students said about Trapani (Sicily)
3.0
In general, Trapani is a very beautiful and interesting city in a fantastic location. Unfortunately, many things are closed in the off-season, e.g. museums and excursion providers, and most buses do not run on Sundays. The student card was also hardly usable, as the providers were closed.
Gabriele
Germany
5.0
To learn the Italian language and gain an insight into life in Sicily, Trapani is ideal.
Kathrin
Germany
What school directors said about Trapani (Sicily)
With some of the finest beaches and natural reserves in Italy, Trapani has the perfect size and position for a stay of 1 week up to 6 months in Sicily
Most recent student reviews of language schools in Trapani (Sicily)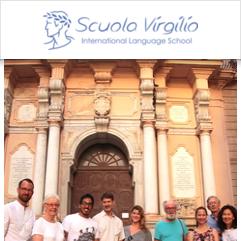 The school is centrally located between the old town and the new part of Trapani. It is also easily accessible by bus. The classrooms are air-conditioned and have a digital blackboard. The staff are always available to answer questions, including holiday-related questions, and provide valuable tips. The lessons are structured in a varied way and the small group size means that you are well integrated into the teaching process. Through the afternoon programme, you quickly get in touch with the other participants.

7 August 2023
Course: Standard Course - 2 weeks
Student age: 57 years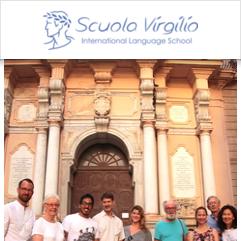 Very enthusiastic teachers, especially Daniela in week 2-3. The lessons were an excellent mix of free speaking, clear explanations of grammar, reading texts and exercises and individual correction. All this with a lot of humour and fun and interesting topics. I learned a lot about traditions, but also about everyday life.
The school has moved, the information on Languagecourse.net is not correct. The school is NOT directly on the beach, but 850m away. Of the general school facilities, I only experienced the WiFi. However, the almost complete lack of leisure activities during my stay was disappointing. When I first contacted the school, they said there would be a guided tour of the city and an aperitif meeting each week. The aperitif was completely cancelled, the guided tour was postponed several times and finally done on the third last evening.

8 November 2022
Course: Standard Course - 3 weeks
Student age: 57 years
Information about Trapani (Sicily)
Why Trapani (Sicily)? Trapani is the city of salt and wind mills and boasts a pretty old town and some very important cultural sites, not to mention its beautiful seaside resorts. Along its elegant pedestrian area you can admire churches, cathedrals and castle remains. Nearby there are many gardens which offer a very relaxing spot to enjoy a carefree stroll.
Key Facts about Trapani (Sicily)
Time zone: GMT +0
Currency: (1 = 0.0000 USD)
Visa requirements data last updated on 01 Dec. 2022
(
Source
)
Cost of Living:
Big Mac price (Italy average):

0.00

(7% cheaper than in USA)
Mains electricity:
Residential voltage:

230 V

Frequency:

50 Hz
Events in Trapani (Sicily)
Best time to take a language course in Trapani (Sicily)
Processione dei Misteri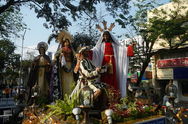 April 2024Taking place on Good Friday, the Mysteries of Trapani is a religious procession that involves the transportation on giant statues through the city streets. These statues represent typical local jobs whose representatives have to take care of the statues and transport them during the procession.
Luglio Musicale Trapanese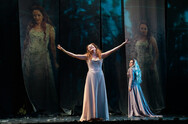 July 2024 - August 2024Created in the late 19th century so that audiences of the Teatro Garibaldi in Trapani could continue to enjoy opera music in the summer, the Trapani municipal gardens now offer one of the most prestigious open-air theatres in Italy.
Stragusto
July 2024Stragusto began in 2009 to celebrate Mediterranean street market food in the Trapani old city centre and went on to become one of Italy's best street food events. Five intense days of irresistible Mediterranean scents and flavours and gourmet experiences!
Le Vie dei Tesori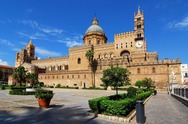 October 2024 - November 2024Le Vie dei Tesori is one of the most popular festivals in all of Italy. It promotes the cultural, monumental and artistic heritage of Palermo. It allows you to visit 100 monuments including some that are usually closed to the public.
Didn't find what you are looking for?
Interested in language travel to other cities? Have a look at Italian language schools in other cities in Italy such as , Alberobello, Alghero (Sardinia), Arezzo, Ascoli Piceno

...
, Bagno di Romagna, Bari, Bologna, Brindisi, Cagliari, Calabria, Camerano, Castiglioncello, Catania, Cefalù, Città di Castello, Como, Cortona, Cosenza, Florence, Genoa, Island of Elba, La Maddalena, Lucca, Milan, Milazzo (Sicily), Modena, Mola di Bari, Montepulciano, Naples, Orbetello, Oristano (Sardinia), Otranto, Palermo, Pescara, Pisa, Ravenna, Reggio Emilia, Rimini, Rome, Salerno, Sanremo, Santa Domenica, Sestri Levante, Siena, Siracusa, Sorrento, Taormina, Todi, Trieste, Tropea, Turin, Urbania, Varese, Venice, Verona, Viareggio, Vibo Valentia, Vicenza or see our list of all schools in Italy.
You may also want to consult options outside Italy for learning Italian.