York Language School Ranking based on student ratings - 9 schools
Filter
Map
Over 2000 qualified teachers in 30 countries all over the world are associated with the school organisation. 'Study & Live in your Teacher's Home' offers you the unique opportunity for a full immersion experience. The most common criticism of language courses is that students speak their own language with friends after class. This weakness is completely eliminated, as you are the only student in your teacher's house.
More
| | |
| --- | --- |
| 5.0 | Quality of teaching |
| 5.0 | Leisure program |
Accreditations:
Melton College is one of, if not, the only IELTS exam centre located in York. Melton College York is located in the suburbs of the English city of York. Housed in the beautiful English countryside, the school has a fantastic site, surrounded by gardens and within walking distance of York train station. The school also has a partner hotel next door, ensuring that students and families of all ages can enjoy their stay in York whilst furthering their English studies. Local attractions include York Minster, JORVIK Viking Centre, the National Railway Museum York, Shambles and York Castle Museum. Leeds-Bradford International Airport is around a 90-minute journey from York. Melton College York is accredited by the British Council and Quality English and is a member of EnglishUK. The school has programmes suitable for students of all ages and levels.In addition to General English programmes, the school provides a "Gold Course" for students aged 40+, IELTS Exam Preparation programmes and Junior programmes for students aged 11-17 at various intervals throughout the year. Private tuition is also readily available in packages. The school provides accommodation in homestays with local families and in Melton College's very own guest house. The guest house is a small boutique hotel with 16 rooms and various room types.
More
Accreditations:
This centre is an experienced English Language school based in the North East of England. The school is situated in the centre of the beautiful and historic city of York, England's most visited city outside of London. It is an ideal place to study because York has many tourist attractions and does offer a unique mix: a modern, cosmopolitan city in an ancient setting. It was established over 45 years ago, a friendly school, which prides itself on its excellent teaching and high standards.
More
Accreditations:
York Associates is an English language school located in the popular destination of York, England. Housed in an 18-century Georgian building (built in 1752), the school is in the city centre and close to many shops, eateries, markets and attractions of interest. Such attractions within walking distance of the school include York's Chocolate Story, the Coppergate shopping centre, the JORVIK Viking Centre, the York Dungeon and York Castle Museum. York is full of interesting and fun activities to take part in during evenings and weekends. The school offers a range of evening and weekend activities for students to engage their English on a social level. York Associates focuses on English language communication for business. These programmes can be for companies or individuals alike. The school has a range of courses, including General Course 30+, English for Specific Purposes, Business Communication, Effective International Communication and several individual learning packages. The school can provide accommodation in a homestay, various hotels and shared apartments. The school facilities include a garden, modern classrooms with old fashioned elegance, free coffee, free water, a lounge area and WIFI. The school is just a short walk from the closest bus stop and is within a 20-minute walk of the York train station.
More
Accreditations:
Accreditations:
This programme takes place at Queen Ethelburga´s College, in York, one of the most prestigious boarding schools in England. There, students will find six dedicated play areas across campus, each of them built for a specific age group. Students will be able to use this school's gorgeous facilities, including its gardens to celebrate weekly BBQs; the sports village, with its pitches and courts, martial arts suite and dance studios; and modern classrooms, equipped with whiteboards and projectors.
More
Accreditations:
Stafford House International Junior Centre York is located close to the historic walled city of York, in northeast England. The Junior centre is housed within one of the most known boarding schools in the UK, Queen Ethelburga's College. Set in the English countryside, in a refurbished early 20th-century traditional boarding school, Queen Elizabeth's College offers a unique location for junior programmes. The school's expansive campus provides various attributes such as gardens and sporting facilities, whilst the centre of York and its attractions are only a 20km journey away. Leeds International Airport is 53 km from the school. The school is a 5-minute taxi ride from Cattal Train Station, 140km from Manchester Airport and a 4-hour train journey from London. This unique summer school offers many facilities allowing juniors to enjoy a memorable time throughout their programme. These facilities include on-site tennis courts, a cafeteria, a swimming pool, common rooms with televisions and computer games, extensive sports fields and a shop. All junior programmes include 7 evening activities, 1 full-day excursion and 2 half-day excursions per week. These Junior Centres use in-house coursebooks and materials designed to provide a communicative and student-orientated learning experience. Stafford House International Junior Centres are part of the larger group of Stafford House Study Holidays Limited. For over 25 years, the group has been supplying young learners with immersive summer camp and day experiences. The group has centres in the USA, UK and Canada, in such popular destinations as Cambridge, Toronto, Boston and London.
More
Accreditations:
British Study Centre York is located in the medieval city of York, in the northeast of England. Housed centrally, the school has many pubs, local shops and supermarkets close by and is only a moment's walk away from the city's iconic Shambles Street. Further attractions within walking distance of the school include the JORVIK Viking Centre, Clifford's Tower, the York Theatre Royal, York Minster and numerous museums, ensuring students have much on hand to make their time in York as funfilled and enjoyable as possible. Course selection includes something for students of all levels, as well as teachers and business professionals. General English courses are available over various schedules and intensities whereas, more advanced students may be interested in the school's Exam Preparation programmes (FCE, CAE, IELTS) or Business English. For Teachers, there are CLIL (Content & Language Integrated Learning) and Advanced Language & Methodology Courses. Accommodation is readily available through the school in carefully selected Host families (Homestay) or Summer Residence. The facilities of the school are excellent, offering students everything they may need to reach their language goals in a comfortable and inviting environment. These facilities include a library, computer lab, garden, lounge area and various games such as table tennis. All classrooms are equipped with heating and ample natural light to create an optimal learning environment. British Study Centre was initially founded over 90 years ago, originally focusing on correspondence courses. Today they work at the forefront of education, now under the group name of BSC Education. With several centres throughout the UK and Ireland, BSC develops students and teachers from all over the world via their junior, adult, teacher, exam preparation (OET) and university pathway programmes.
More
Interested in online courses?
York ratings & opinions
How our students rated their experience in York
Overall attractiveness of York
5 authentic ratings from students who reserved a course with us in York
What our students said about York
5.0
A great city. Not too big, yet plenty to discover, very friendly people, lots of culture - just right for a language study trip. The beautiful Yorkshire surroundings are perfect for excursions into nature and to the sea, and the large city of Leeds is also nearby.
Florian
Germany
5.0
I live in York and like it. The course was for my grandson.
Feodor
England UK
What school directors said about York

Because it is always voted as one of the top 3 cities to live in, in the UK. Small enough to be compact, but big enough to have plenty of things to do
Richard Hawker, Managing Director
Director of York Associates, lives in York since 1990
Most recent student reviews of language schools in York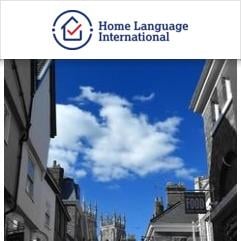 The teacher are really friendly and prepared

6 August 2018
Course: Standard Programme Intensive - 1 week
Student age: 12 years
Information about York
Why York? No other city in northern England screams 'medieval' quite like York, a city that has lost little of its pre-industrial lustre. Magnificent 13th-century walls enclose a medieval web of narrow streets. The huge and awe-inspiring York Minster lies at the heart and is one of the most beautiful Gothic cathedrals in the world. York has a long history and rich heritage which is woven into virtually every brick and beam in the city. Even though the area has become increasingly popular with tourists, the museums, restaurants, cafes and pubs have all been carefully maintained to honor its heritage.
Key Facts about York
Population: 154,000
Time zone: +10h. (GMT +0)
Region: England, City of York
Currency: GBP (1 GBP = 1.2153 USD)
Visa:
Nationals from USA do not require a visa to study short term courses up to 180 days. Documentation regarding purpose of visit must be shown at the border in order to enter the country. For Study purposes: letter of enrolment from school, accommodation arrangements and proof of payments to the relevant institutions.
Check visa requirements for nationals from other countries.
Visa requirements data last updated on 01 Dec. 2022
(
Source
)
Cost of Living:
* 100 = prices in New York
Price index excluding rent:

78* (22% cheaper than New York)

Price index including rent:

55* (45% cheaper than New York)
Price index food only:

67* (33% cheaper than New York)

Big Mac price (England UK average):

3.65 £

(14% cheaper than in USA)
Mains electricity:
Residential voltage:

230 V

Frequency:

50 Hz
Events in York
Best time to take a language course in York
Viking Festival
February 2024To commemorate the Viking invasion of the city in 866, JORVIK Viking Festival plunges the city of York into a medieval atmosphere and shines a spotlight on the viking culture. Everyone is invited to dress up as vikings and participate in the parades, parties, games and workshops.
Festival of Traditional Dance
September 2024For more than 30 years, the city of York has organized the Festival of Traditional Dance to keep alive the traditional dances of the United Kingdom. The streets become stages for numerous dance shows in typical costumes.
York Food and Drink Festival
September 2024The York Food and Drink Festival is an event organised to promote local and regional products. It's a great opportunity to discover local food and independent restaurants while having a great time with family and friends.
York Christmas Market
November 2024 - December 2024A comedy, theatre and music festival where the best comedians and actors stage their work and where everyone can enjoy the festivities with typical English humour.
Q&A - Questions and answers about York
I would like to teach my children English for two months in York.





"

We have excellent junior courses in York. Please let me know the age of your kids and I will be happy to help you.

"

Sawsan Zein, LanguageCourse.Net - Apr 17, 2023

FAQ about courses in York

Which English school in York has the best location?

English in , located in Peasholme House, St Saviours Place has been voted as the school with the best location in York.

What are the costs of living in York?

How did students rate York compared to other cities?

Students rated York with 4.8 stars out of 5.

What type of business English courses are offered in York?

Do schools in York offer courses to prepare for English exams? Which exams?

Didn't find what you are looking for?

Interested in language travel to other cities? Have a look at English language schools in other cities in England UK such as Abingdon, Arundel, Ascot, Ashford, Bath

...

, Bedford, Birmingham, Blackpool, Bournemouth, Bradford, Brighton, Bristol, Broadstairs, Bury St Edmunds, Cambridge, Canterbury, Caterham, Chelmsford, Cheltenham, Chester, Chichester, Cobham, Colchester, Cornwall, Cotswolds, Cottesmore, Crowthorne, Dover, Durham, East Budleigh, Eastbourne, Egham, Exeter, Exmouth, Folkestone, Gloucester, Guilford, Hailsham, Hampstead, Hastings, Hatfield, Henley-On-Thames, Hereford, Hook, Hove, Ilfracombe, Ipswich, Isle of Sheppey, Isle of Wight, Jersey, Kent, Kingston upon Thames, Lancashire, Lancaster, Lancing, Leamington Spa, Leeds, Lincolnshire, Liverpool, London, Loughborough, Luton, Maidstone, Malvern, Manchester, Margate, Milton Keynes, Moulton, Newcastle, Newquay, Norwich, Nottingham, Oakham, Oxford, Paignton, Peterborough, Plymouth, Portsmouth, Preston, Ramsgate, Reading, Rochester, Salisbury, Scarborough, Sheffield, Shrewsbury, Skegness, Southampton, Stratford, Stratford-upon-Avon, Suffolk, Surrey, Torquay, Totnes, Truro, Watford, Weymouth, Winchester, Windlesham, Windsor, Woburn, Woking, Woldingham, Woodbridge, Woodcote, Worcester, Worthing or see our list of all schools in England UK. You may also want to consult options outside England UK for learning English.