Totnes Language School Ranking based on student ratings - 1 school
Filter
Map
Accreditations:
The language school English in Totnes can be found in Totnes, South Devon, England. The school is located in the centre of the High Street, in the heart of Totnes and offers a wide range of amenities and sites of interest within walking distance. Such sites of interest include Totnes Castle, Totnes Rare Breeds Farm, Berry Pomeroy Castle and The Timehouse museum and art gallery. The school is confident in helping students achieve their goals, focusing on each student's individual needs and sharing with them their vibrant learning community. This approach assists English in Totnes in teaching all age ranges. English in Totnes likes to mix good "old fashioned" classroom learning with state of the art technology. There is a wide range of courses for Adults, Juniors, Families, Teenagers and Senior Citizens available throughout the year and during the summer months (juniors). Totnes is a town surrounded by green landscapes, which can often give students of all ages a refreshing experience. The school has courses and activities suitable to all students and offers a variety of cultural trips and excursions local to their county of Devon. With over 40 years of experience, English in Totnes is a school that can help students of all ages enjoy their study of English whilst achieving their learning goals.
More
Reviews by student age group
Students < 18 years
4.3
(6)
Students 18-30 years
4.5
(2)
Students 30-49 years
5.0
(1)
| | |
| --- | --- |
| 4.3 | Quality of teaching |
| 4.1 | Leisure program |
Interested in online courses?
Totnes ratings & opinions
How our students rated their experience in Totnes
Overall attractiveness of Totnes
15 authentic ratings from students who reserved a course with us in Totnes
What our students said about Totnes
5.0
The best small town for calm holidays and walking.
Arina
Russia
Most recent student reviews of language schools in Totnes
The teachers (Alex, Katherine, Will). They are excellent professionals. The free time organised by Will was very nice. The trips to Bath and Exeter during the weekend were good. The conversation classes (optional) are really useful.
The excursions to cities such as Bath, which are a bit far away, are a bit poor because we use a lot of time to get there. I suggest they leave earlier (we leave at 09:00), at least a couple of hours earlier. Because there are many things to visit, and it is an opportunity that is difficult to repeat on our own, and the city is crowded by the time we get there. We spend a lot of time queuing and little time visiting the places. We also need to get back soon to be there on time. Books are borrowed from the school and many students did not have it because the previous students had lost them. We could work with photocopies or other material I can't think of to avoid this. I did not have a book and it is difficult to study as many explanations are in the book. I guess they can easily find a solution. But otherwise it is a good school, since it is very interactive and the atmosphere helps to learn. For that reason, I will go back, if I can afford it. Thanks everyone. Pili

7 August 2014
Course: General English - 2 weeks
Student age: 55 years
I think the teachers are very professional and I liked the "cultural experience" course because it is more interactive.

30 July 2013
Course: General English - 1 week
Student age: 50 years
The place, very familiar (small school)
I thought the other students would be older. I\'m 20 and the most of where 17.

3 August 2010
Course: Intensive English - 2 weeks
Student age: 20 years
Information about Totnes
Why Totnes? Totnes in a nutshell is a historic market town with breathtakingly beautiful countryside and a fascinating history. Sitting on the banks of the River Dart, this unique and charming town has a lively community and a relaxed atmosphere every visitor can enjoy.
Key Facts about Totnes
Population: 9,000
Time zone: +10h. (GMT +0)
Region: England, Devon
Currency: GBP (1 GBP = 1.2153 USD)
Visa:
Nationals from USA do not require a visa to study short term courses up to 180 days. Documentation regarding purpose of visit must be shown at the border in order to enter the country. For Study purposes: letter of enrolment from school, accommodation arrangements and proof of payments to the relevant institutions.
Check visa requirements for nationals from other countries.
Visa requirements data last updated on 01 Dec. 2022
(
Source
)
High season: July
Low season: May
Average course price per week (High season): 913 ¥
Average course price per week (Low season): 25,029 ¥
Cost of Living:
Big Mac price (England UK average):

3.65 £

(14% cheaper than in USA)
Mains electricity:
Residential voltage:

230 V

Frequency:

50 Hz
Weather in Totnes
Climate Table
Legend:
Midday Temperature
Night-time Temperature
32 °F
32 °F
32 °F
32 °F
32 °F
32 °F
32 °F
32 °F
32 °F
32 °F
32 °F
32 °F
9

mm
11

mm
13

mm
14

mm
16

mm
17

mm
17

mm
15

mm
13

mm
11

mm
10

mm
9

mm
What to do in Totnes
Totnes Castle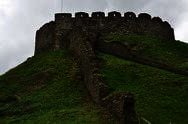 Arrival airports
Exeter (EXT)
- 38 km. from Totnes city center
Public transportation to city center:
Every 30 minutes, 140 minutes.
Main stops: Exeter Airport, Exeter City Centre - Bus Station + Exeter City Centre - Bus Station, Swallowfields - The Bourtons
+
Every 60 minutes, 80 minutes.
Main stops: Exeter Airport, Exeter - St. Davids Station; + Exeter St. Davids, Totnes
Taxi: 35 minutes drive to city center of Totnes
Bristol (BRS)
- 125 km. from Totnes city center
Public transportation to city center:
+
Every 10 minutes, 150 minutes.
Main stops: Bristol Airport, Temple Meads + Bristol Temple Meads, Totnes
Taxi: 110 minutes drive to city center of Totnes
Didn't find what you are looking for?
Interested in language travel to other cities? Have a look at English language schools in other cities in England UK such as Abingdon, Arundel, Ascot, Ashford, Bath

...
, Bedford, Birmingham, Blackpool, Bournemouth, Bradford, Brighton, Bristol, Broadstairs, Bury St Edmunds, Cambridge, Canterbury, Caterham, Chelmsford, Cheltenham, Chester, Chichester, Cobham, Colchester, Cornwall, Cotswolds, Cottesmore, Crowthorne, Dover, Durham, East Budleigh, Eastbourne, Egham, Exeter, Exmouth, Folkestone, Gloucester, Guilford, Hailsham, Hampstead, Hastings, Hatfield, Henley-On-Thames, Hereford, Hook, Hove, Ilfracombe, Ipswich, Isle of Sheppey, Isle of Wight, Jersey, Kent, Kingston upon Thames, Lancashire, Lancaster, Lancing, Leamington Spa, Leeds, Lincolnshire, Liverpool, London, Loughborough, Luton, Maidstone, Malvern, Manchester, Margate, Milton Keynes, Moulton, Newcastle, Newquay, Norwich, Nottingham, Oakham, Oxford, Paignton, Peterborough, Plymouth, Portsmouth, Preston, Ramsgate, Reading, Rochester, Salisbury, Scarborough, Sheffield, Shrewsbury, Skegness, Southampton, Stratford, Stratford-upon-Avon, Suffolk, Surrey, Torquay, Truro, Watford, Weymouth, Winchester, Windlesham, Windsor, Woburn, Woking, Woldingham, Woodbridge, Woodcote, Worcester, Worthing, York or see our list of all schools in England UK.
You may also want to consult options outside England UK for learning English.